Low Carb Philly Cheesesteak Casserole
We may earn money from the products/companies mentioned in this post. As an Amazon Associate I earn from qualifying purchases. For more information, read our Terms & Disclosures.
Philly cheesesteak casserole is a savory, flavorful keto casserole that the entire family will enjoy. Serve up your cheesesteak casserole with a tasty side dish or on your favorite sandwich bun. My kids enjoy it with tortilla chips and eat it as Philly cheesesteak nachos.
It doesn't get much better than a low carb Philly cheesesteak casserole. Creamy sauce over yummy beef, the crispy bite of fresh peppers and the sweet hint of lightly caramelized onion, and the smoky goodness of provolone…really, what's not to adore about this casserole dinner?
Philly Cheesesteak Casserole With Ground Beef
Really any casserole made with cheese and beef is going to be a win at our dining room table. The kids love the combo of beef and cheese (and so do I!).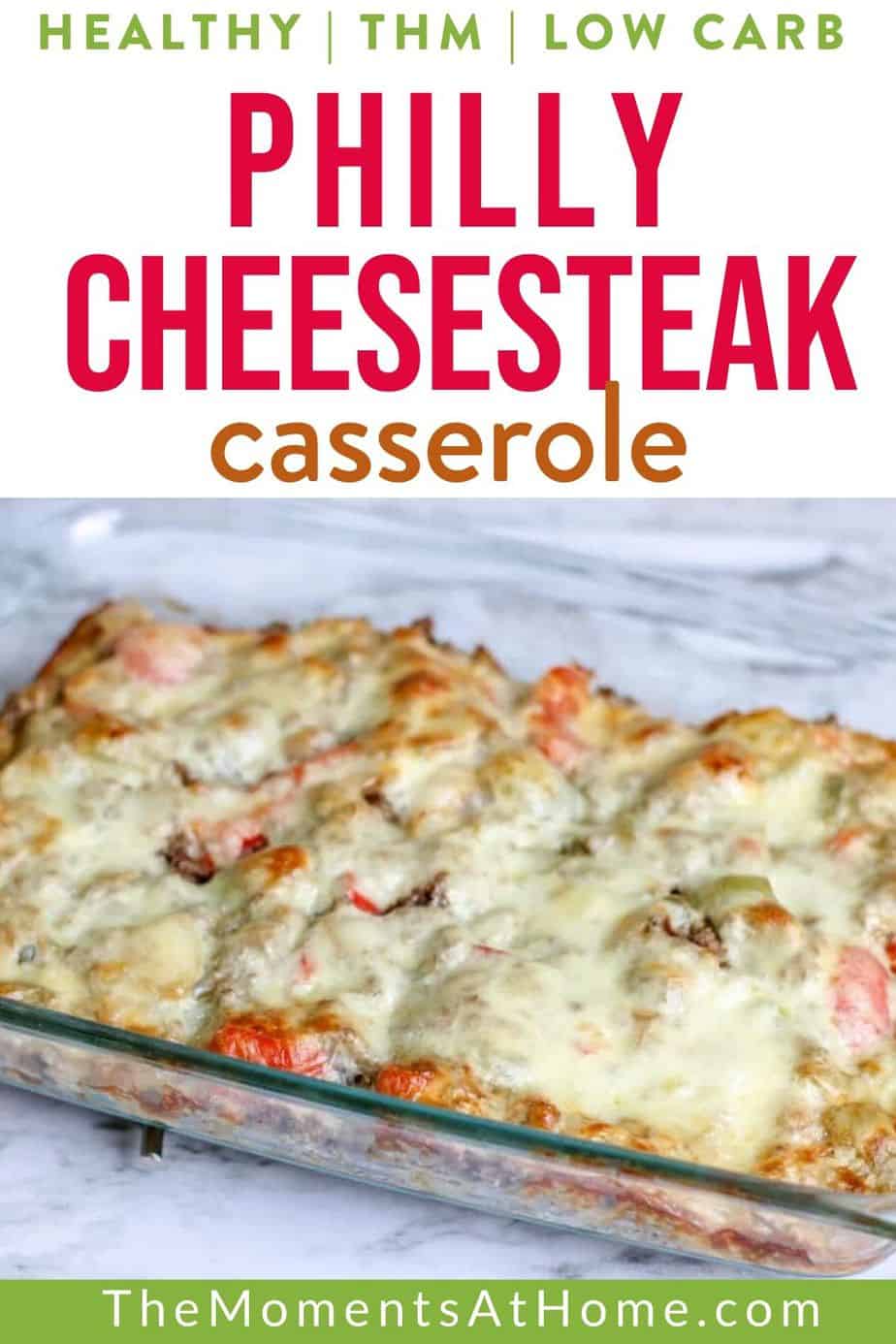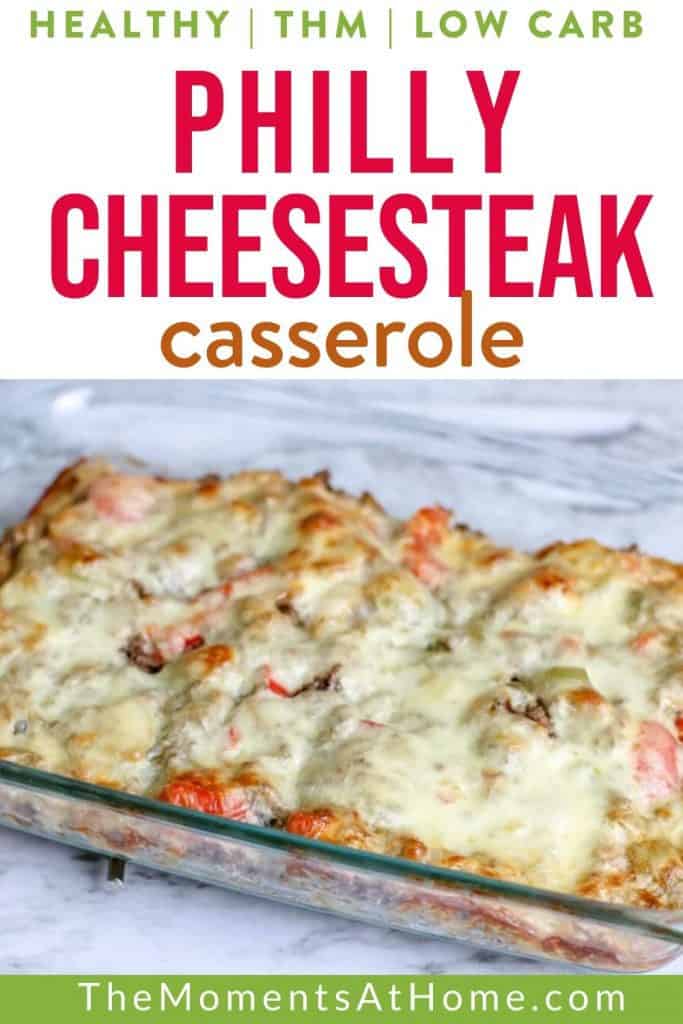 You can see my favorite keto casseroles here; they are hits with the entire family and we just add a healthy carb side for the kids and hubby so mama can stay on track. And my favorite ground beef recipe collection is basically our winter dinner rotation because it just doesn't get much more delightful than a satisfying, savory beef recipe when it's cold outside.
Growing up in New York, a good Philly cheesesteak was one of my favorite treats. I still remember eating my very first gooey, amazing cheesesteak sub in Philadelphia with my grandfather. This isn't quite the same, but it's a healthy, easy dinner version for the entire family.
Low Carb Philly Cheesesteak Casserole Ingredients
So what do you need to make a Philly cheesesteak casserole at home?
Ground beef
Olive oil
Bell Peppers
Onion
Cream cheese
Heavy cream
Eggs
Garlic powder
Salt & pepper
Provolone cheese

How To Make Your Easy Cheesesteak Casserole
First up: chop the veggies. Coarse chopping is fine, and saves a lot of time. No need to have finely diced or sliced here.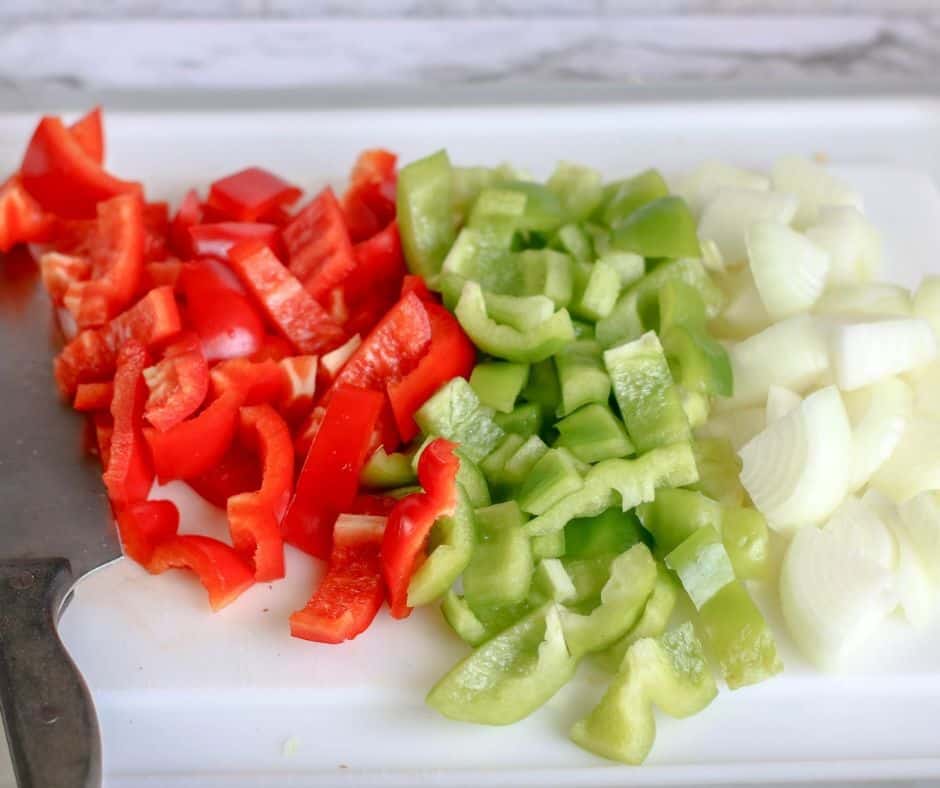 Next, heat a skillet (we love our cast iron for this!) and drizzle some olive oil on the bottom. Sauté your veggies until their color just starts to fade the onions get a hit of brown.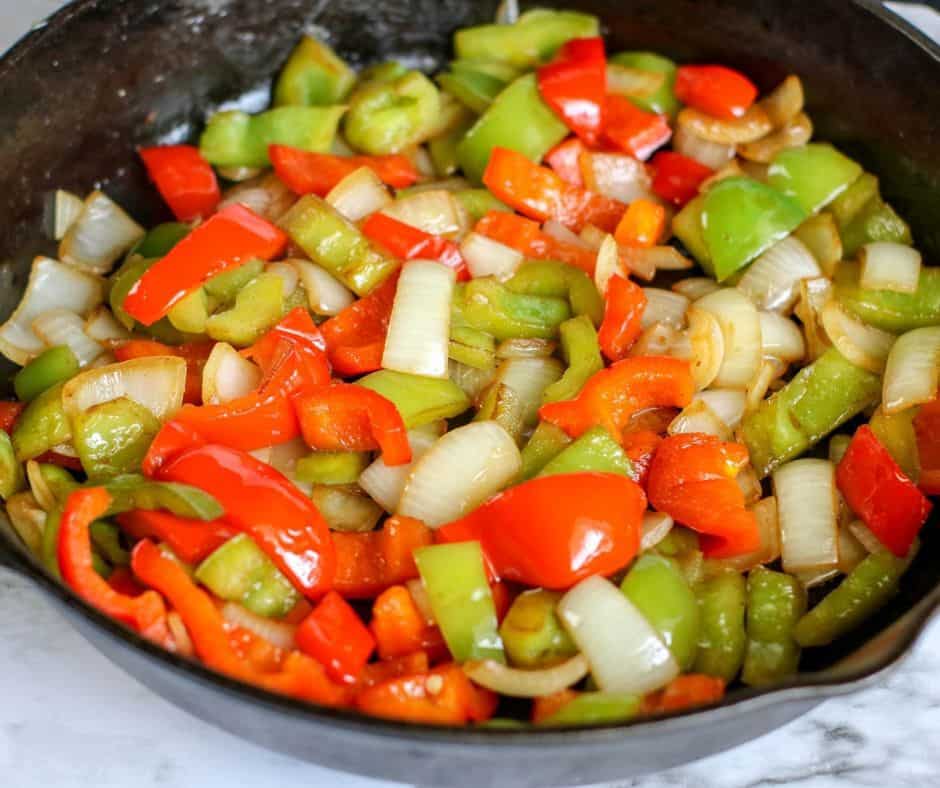 Next, cook your ground beef in the same skillet.
Once it's brown and crumbly (and I'll be honest, I like to cook it a little more than this usually to get some crispy crumbles…it's so yummy that way!), it's time to toss your cream cheese and veggies in with it to combine them all.
You can do this in your favorite mixing bowl or right in the casserole pan or skillet, too.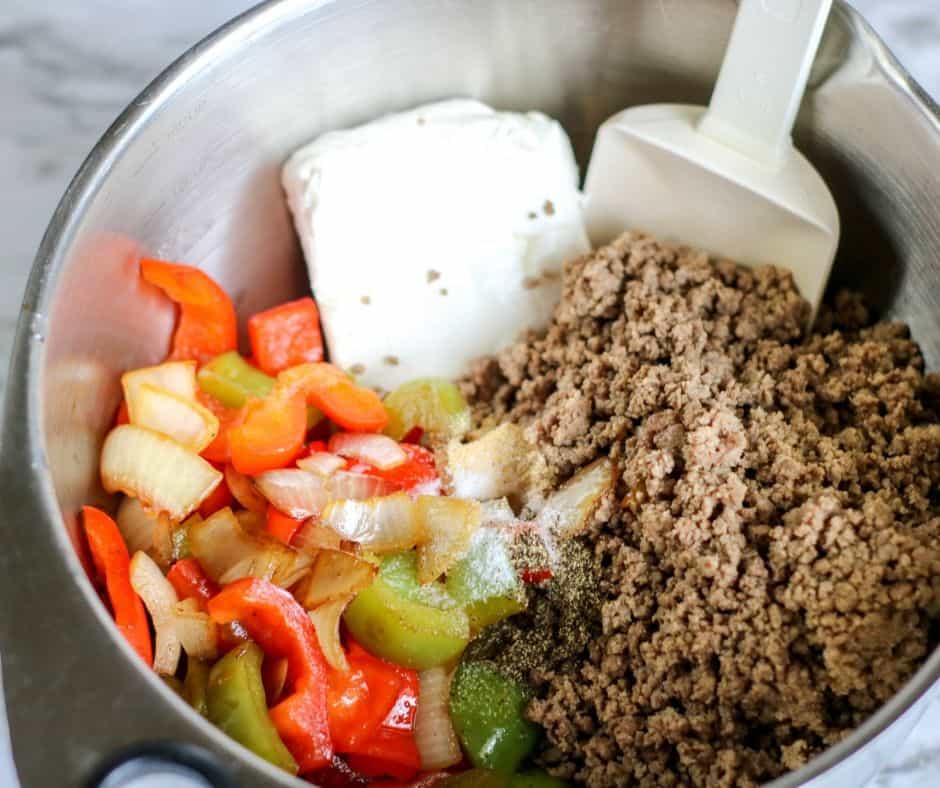 Lay out your mix in the pan and pour over the egg and cream mixture (no, it won't taste eggy!). This will help your casserole have some structure and add some seriously awesome creaminess to it.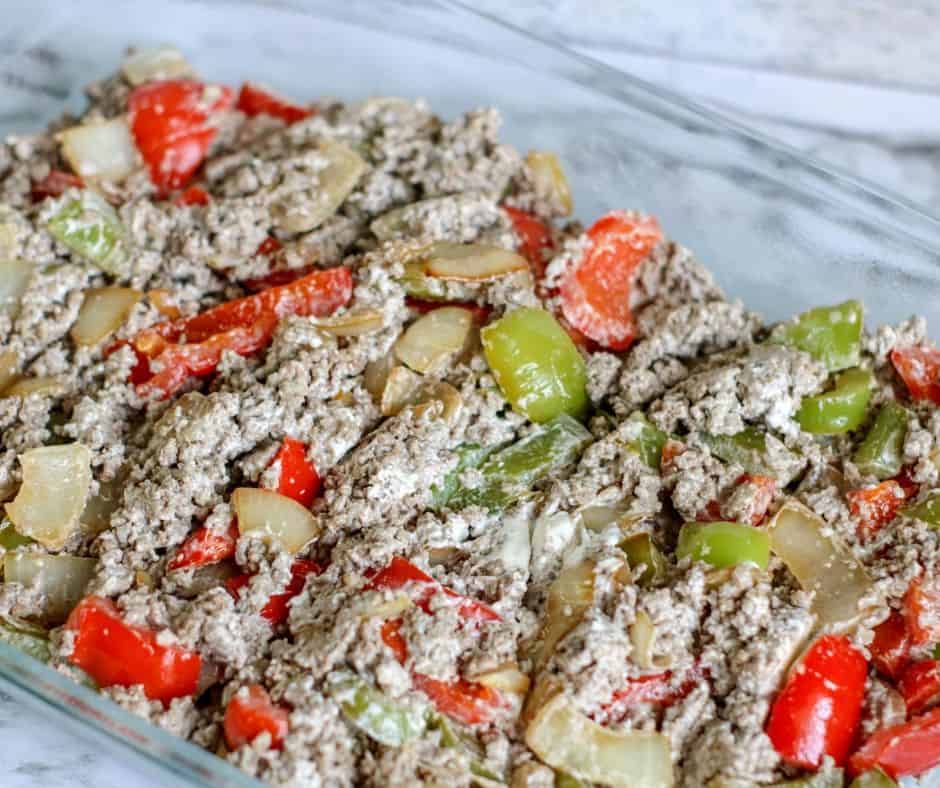 And, of course, we can't forget about the smoky provolone. I've also done this with half provolone and half smoked gouda (oh my YUMMMMMMMM). In a pinch when I've had neither, I've used Monterrey jack or a jack and cheddar mix. Also very good.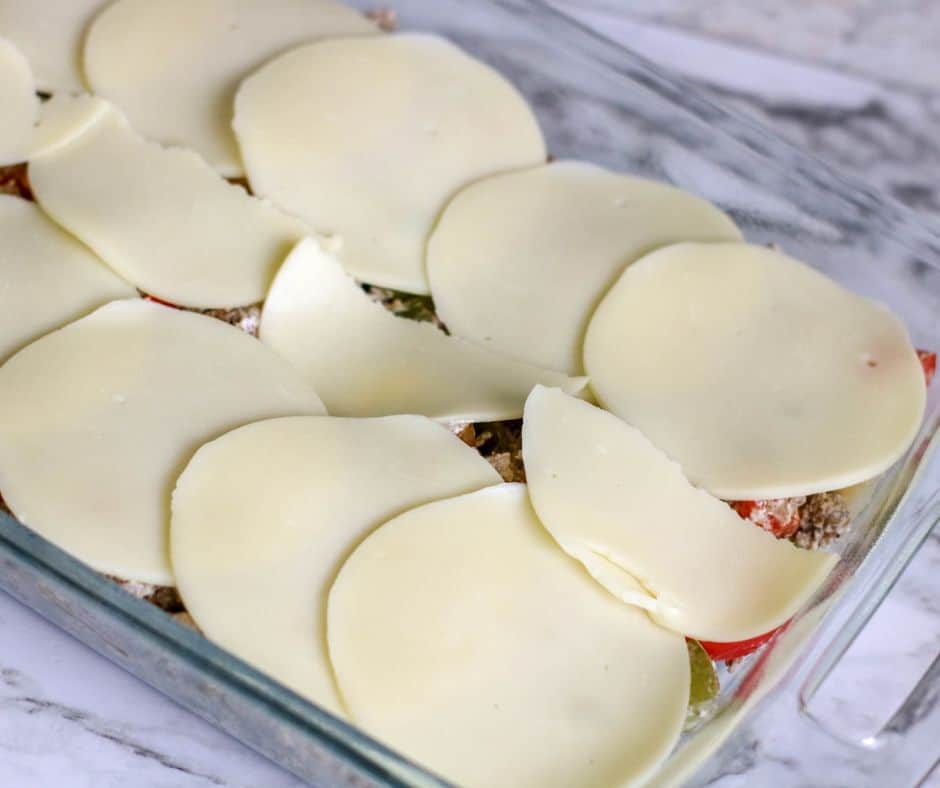 Cook until it's just brown and bubbly, then let it set for 5-7 minutes before serving so it can rest and hold shape.
Serve your Philly cheesesteak casserole up on plates, on your favorite bread or roll (if you're low carb or keto, this is the recipe to try!) for a cheesesteak sandwich, and pair with your favorite side dish.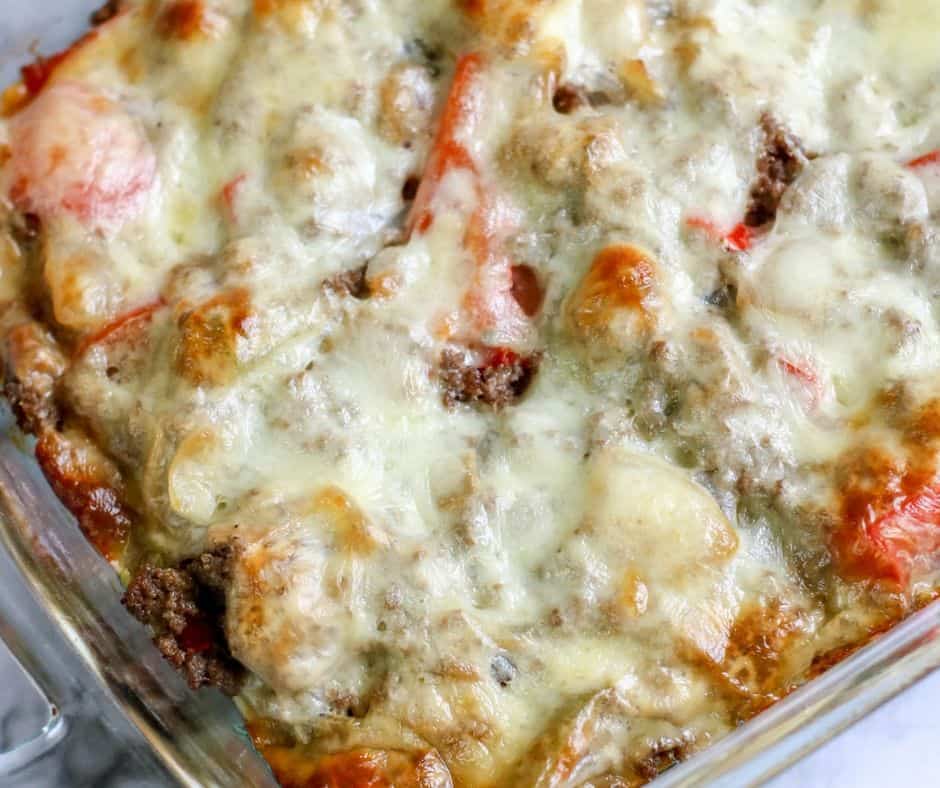 Tips For The Best Philly Cheesesteak Casserole
It's a pretty simple recipe, really. My teens make it for us flying solo. But here are some easy tips to jazz it up or make it more simple.
Jazzing Up Your Philly Casserole
Want to bring some additional flavor to your casserole? No problem! Have some add-ons for people to sprinkle on as they will or if everyone will enjoy it, you can add these toppings to your Philly cheesesteak casserole before baking.
Sautéed mushrooms
Black olives
Sliced jalapeños
Diced tomato
Shredded cheddar or cheese sauce
While your classic cheesesteak is steak, cheese, peppers, and onions, these are all yummy add ons. Adding cheddar sauce and hot peppers to this casserole gives it that state fair flair.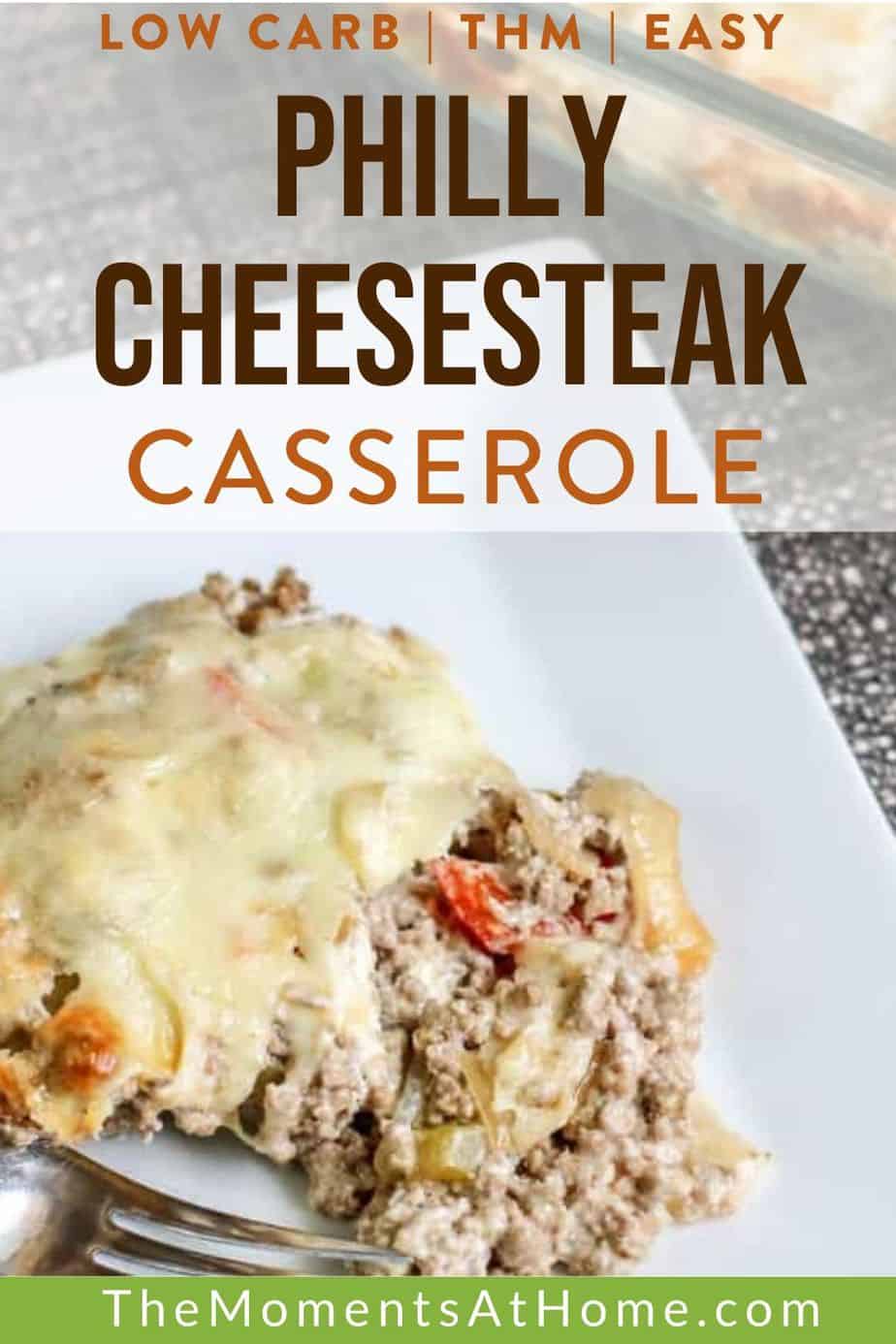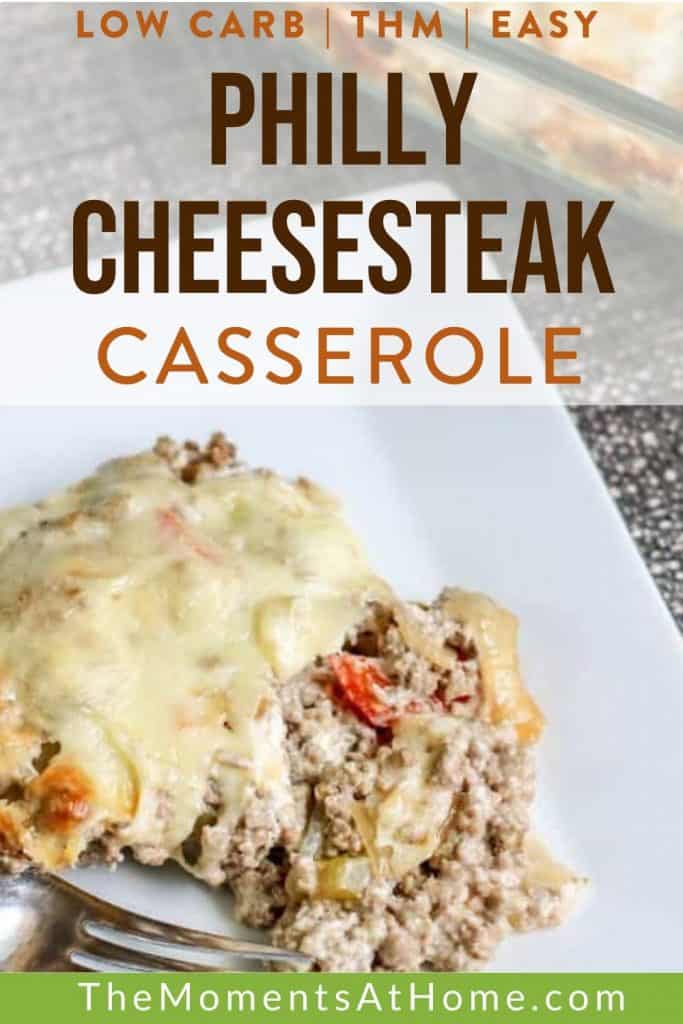 Making Your Casserole In One Pan
Sometimes I'll cook by beef and veggies in my favorite deep cast iron skillet and assemble the casserole right in it, and then move it to the oven to bake. This make the clean up even easier, because I'm only using the one skillet.
Other times I use my favorite casserole dish because we want to get more pieces out of it or have it be pretty for company. Or (most likely) the cast iron is being used for a side dish or to bake cornbread in. I use this casserole because it has a lid, which makes storing leftovers very simple.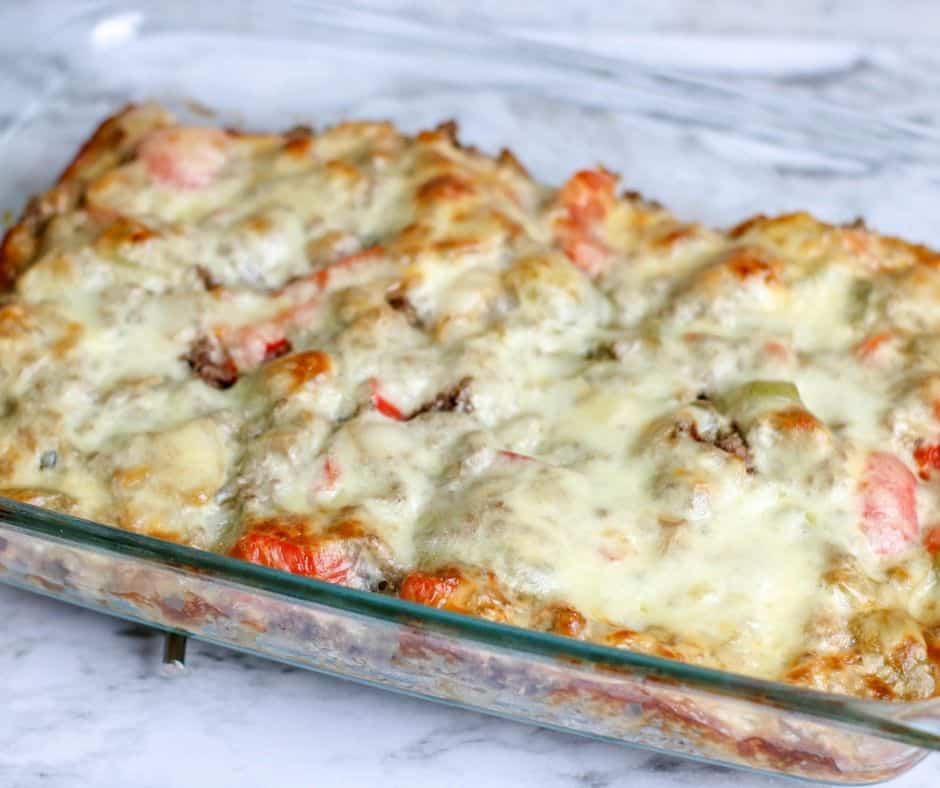 Prepping And Storing Your Philly Cheesesteak Casserole
This is any easy keto casserole for freezer cooking, too. Simply make it all up but don't bake it. Then when it's time to serve it, put it in the oven. If you're cooking from frozen, start with it covered for about 20 minutes, then remove the pan and cook everything until bubbly and lightly browned.
To store your leftovers, put them in airtight containers and keep refrigerated.
To reheat in the oven, cover lightly and cook until heated through. To heat up your leftovers in the microwave, add a few drops of water to the dish and lightly cover so it doesn't dry out.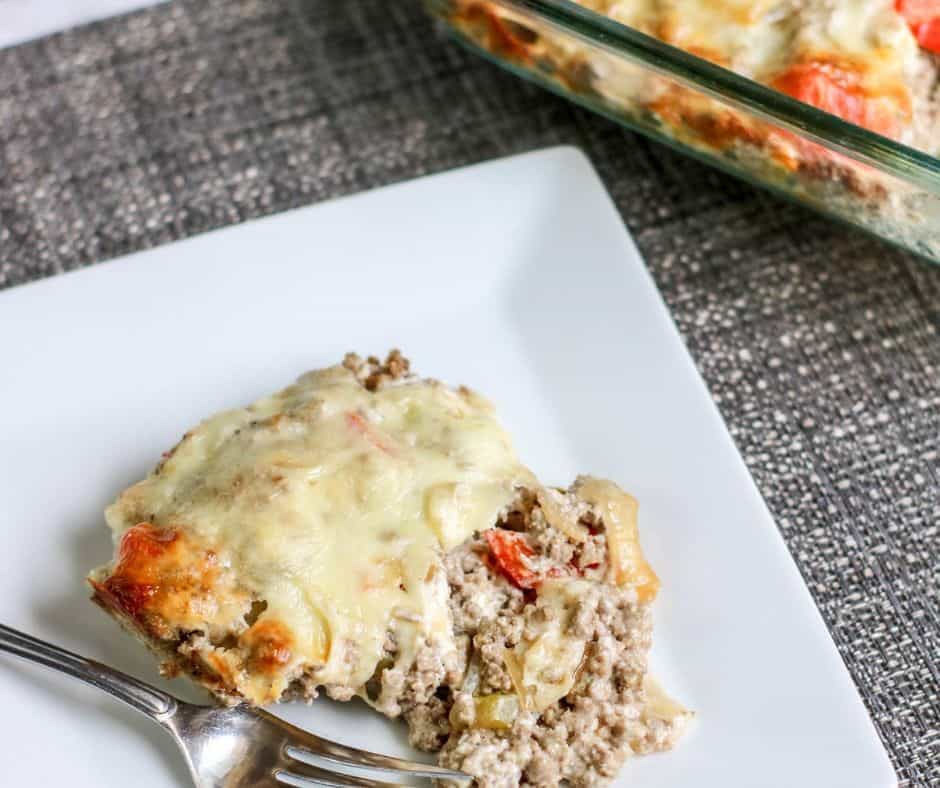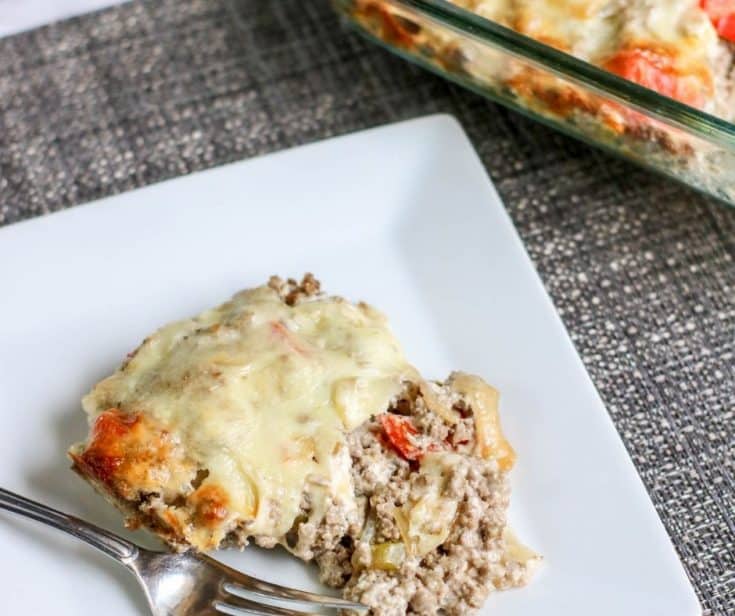 Yield:

8
Philly Cheesesteak Casserole
Additional Time:
5 minutes
Philly cheesesteak casserole is low carb, gluten free, and absolutely delicous. This easy weeknight family dinner is bound to be a crowd pleaser.
Ingredients
2 pounds ground chuck, browned and drained
1 tablespoon olive oil, optional
2 bell peppers, seeded and sliced
1 large or 2 small onion, seeded and sliced
4 oz. cream cheese, room temperature
2 TB heavy cream
2 eggs
1/2 teaspoon garlic powder
1/4 teaspoon dried mustard
Salt and pepper, to taste
12 slices provolone cheese
Instructions
Preheat your oven to 350 degrees. Prepare a 9x13 casserole dish with non-stick cooking spray.
In a large skillet, brown ground beef over medium-high heat and chop into crumbles. Drain ground beef and remove grease from skillet (if desired).
If grease is removed from skillet, add olive oil and swirl to coat. Add onions and peppers to skillet, cooking over medium-high heat and stirring occasionally until softened and onions just browning. Remove from heat.
To the skillet, add cooked ground beef, cream cheese, garlic powder, dried mustard, salt and pepper. Stir to combine. Transfer to casserole dish.
In a seperate bowl, whisk together the egg and heavy whipping cream. Pour it over the meat mixture in your casserole pan.
Top the casserole with sliced provolone cheese.
Bake for 25 to 30 minutes or until cheese is melted and bubbling.
Let rest for 5 minutes prior to serving.
Nutrition Information:
Yield:
8
Serving Size:
1
Amount Per Serving:
Calories:

567
Total Fat:

40g
Saturated Fat:

19g
Trans Fat:

1g
Unsaturated Fat:

17g
Cholesterol:

195mg
Sodium:

573mg
Carbohydrates:

5g
Fiber:

1g
Sugar:

3g
Protein:

44g