7 Fantastic Benefits For Your Kids Who Do Chores
We may earn money from the products/companies mentioned in this post. As an Amazon Associate I earn from qualifying purchases. For more information, read our Terms & Disclosures.
There are so many benefits of chores! The amazing thing about chores is that kids are able to start doing chores for you starting as young as age two.
From helping with basic chores to doing chores on their own, depending on the age of your kids you probably know by now that they can assist with chores. However, it's not just about having help around the house.
Did you realize how much of a gift chores are to your kids? Well, if you didn't, then you're about to find out our favorite benefits of chores…and these benefits will follow them into adulthood to help them be more successful adults, as well!
Here is a great list for ideas on what age appropriate chores for kids are.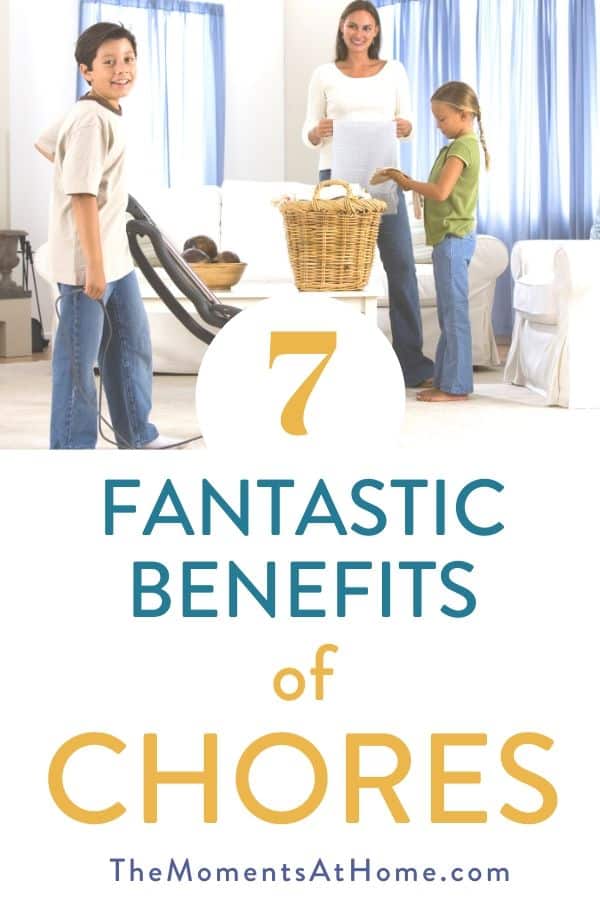 Chores Teach Responsibility
Assigning regular chores to kids helps teach them responsibility. Kids who have a daily expectation of tasks that must get done are more apt to understand how to prioritize tasks as well as to keep a home tidier.
When you enforce a daily or weekly chore list it gives kids a sense of pride as they feel confident knowing that you trust them to complete specific tasks to help keep the home running smoothly.
Responsibility is something that every kid needs to learn and chores are just one basic way to help teach a kid this necessary life skill.
Chores Teach Discipline
Knowing what is expected each day and week for chores is something that helps teach kids discipline. They'll have to get their chores completed before they can do anything fun.
No matter how difficult the chore is or whether your kids feel like doing the chores assigned to them, they know they'll have to get them done in order to do anything else.
Kids who do chores are also more self-reliant, which is part of learning to be more disciplined in life. This life skill will help your kids develop an appropriate level of discipline that they can use in other areas of their life.
Chores Develop Good Habits
When children learn to clean up after a meal, for example, from a young age they will be more likely to do so in their own homes. When they clean bathrooms once a week, that habit continues. And so on.
Chores create habits at a time when their minds are still gathering data and these lay foundations for future success.
Chores Teach Community
The first experience kids get of community is within their household. One of the many benefits of chores is that they teach community. The ability to work together as a family to get things done and have a tidy home helps establish a community mindset.
Each member of the family will have their own responsibility and part of the house that they need to tend to, and in turn, they're working together as a community within the house to keep the home well-maintained.
Chores are one of the easiest ways to help your kids feel like they're a valuable part of the family.
Chores Teach Respect
Having respect for your belongings and household is an important life skill that chores teach kids. A family that makes sure kids have chores to do will help establish a level of respect between kid and parents.
This respect of your elders is an important life lesson and is easily learned through the expectation of having daily chore requirements. Kids who do chores will have more respect for their parents and belongings in the long run. Not only will your kids learn to have respect for their elders and other family members, but they'll have more self-respect due to the combination of all of these benefits of chores.
Chores Make You Feel Valuable
One of the unexpected benefits of chores is that they make you feel valuable. Kids who do chores on a regular basis feel like they have their own place within the family unit and feel more valued as they continue to be responsible for specific chores.
When a kid feels valued they're more apt to go out of their way to help others, including their family members.
Kids who feel valuable also have higher self-esteem and tend to get better grades in school. What a gift! Feeling valued and knowing you can be independent is priceless to a young person as they grow up.
Chores Increase Belonging
Kids who feel like they belong somewhere are less apt to venture into bad situations or at least will be confident to get out of a bad situation should the scenario arise.
One of the benefits of chores is that it increases the sense of belonging to a team, a community, something larger in life. Kids who are expected to do chores tend to feel like they belong within the family and struggle less with negative thoughts.
In our home, this is seen when we all tale pride in having a home we are happy to invite people into (knowing it's clean) or enjoy sharing a lovely meal (we've all helped prepare). We are all a part of it!
There Are So Many Benefits Of Chores!
Chores are one of the easiest things to implement within your house to help build the necessary life skills that your kids need to learn.
From being part of a community to feeling valuable and everything in between, the benefits of chores far outweigh any other option that helps increase and expand upon necessary life skills that kids need to learn before they venture out into adulthood.
In fact, many experts agree that kids who do chores are more likely to become successful adults (I loved this TED Talk on the subject!).
And even if it's easier to do it yourself (because, let's face it, it often is!), teaching your children to do chores and helping them learn the arts of discipline and responsibility are essential parenting tasks. Enjoy it and teach them well!
Don't forget to check out this list of age appropriate chores for kids!