Easy DIY New Year's Eve Party Decorations
We may earn money from the products/companies mentioned in this post. As an Amazon Associate I earn from qualifying purchases. For more information, read our Terms & Disclosures.


Looking for easy DIY New Year's Eve Party Decorations? These sparkling ball ornaments look great hanging over the drink bar, or hung in different lengths above your dinner table.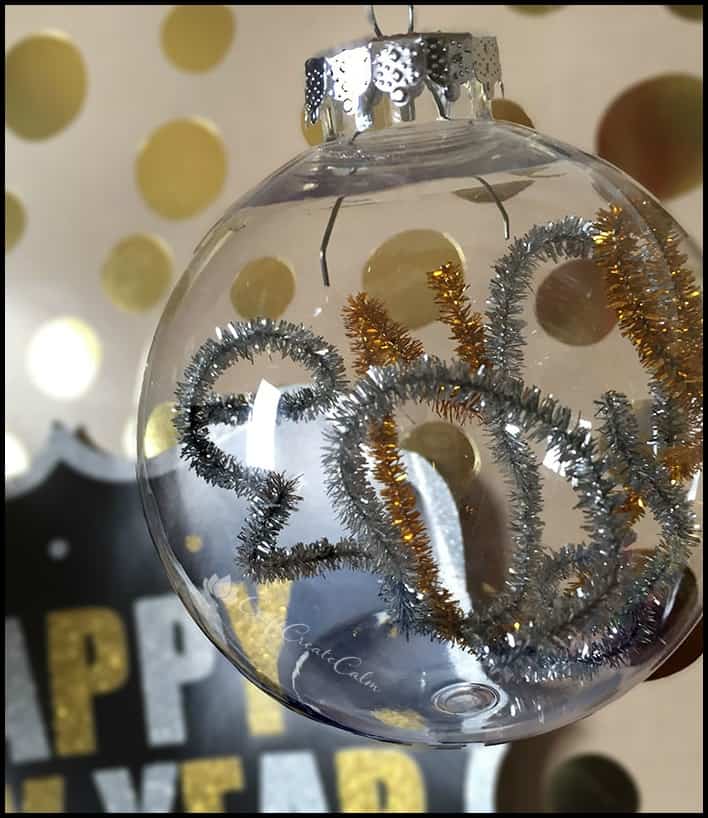 Easy DIY New Year's Eve Party Decorations
Chances are, if you're a crafter, you have a few clear plastic ornament balls left over from the holidays. If not, they are usually deeply discounted after Christmas. Plastic is my preference, or you can use glass ornament balls. You'll need a packet of silver and gold tinsel stems (pipe cleaners.) Not doing gold and silver in your theme? Choose colors that accent the color theme of any party to add a little sparkle to a dark corner, stack in a glass bowl, or you can adapt this DIY into a craft for the kid's table at a family gathering.
How to Make DIY New Year's Eve Party Decorations
Twist the centers of three tinsel stem together, then use your finger to curl each stem. Pinch the stems at the center and push the center of twisted tinsel into an ornament ball. The tinsel will look bunched up inside the ornament; use a pencil to separate the stems inside the ball.

Place the top back on the ornament. Tie ribbon or sting to the top of your New Year's Eve party ornament and hang it where light can bounce off the tinsel, adding sparkle to your New Year's Eve decor!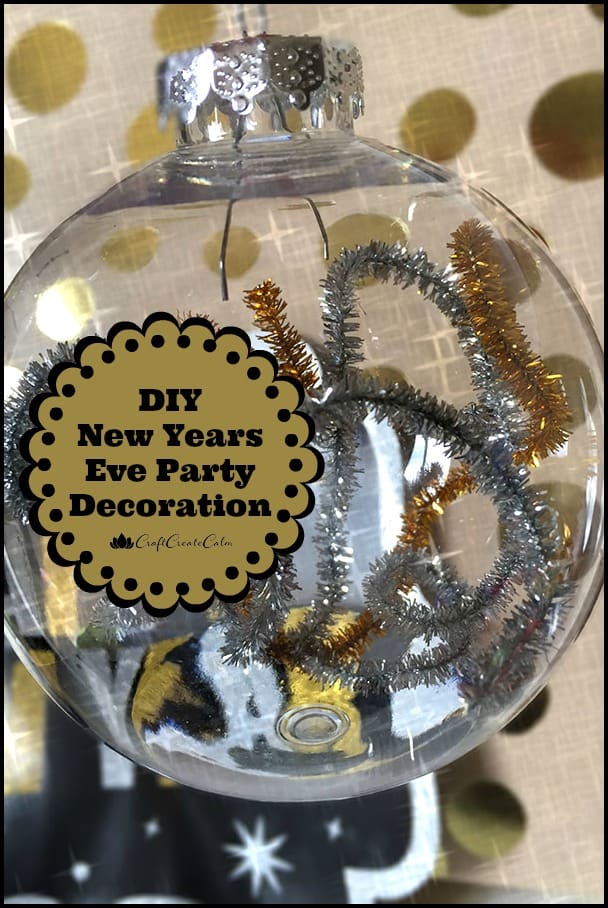 I have more inspiration for you to check out! Start your New Year here with these posts by CraftCreateCalm!
Need to De-Clutter? Check out my tips for getting organized at home.
I've rounded up my favorite Holiday and Winter Crafts for Tweens.
Subscribe to the CraftCreateCalm mailing list below for bonus printables, goal planning and activities throughout the year!