Kids I Spy Christmas Ornament Craft
We may earn money from the products/companies mentioned in this post. As an Amazon Associate I earn from qualifying purchases. For more information, read our Terms & Disclosures.
Who doesn't love a game of I Spy? I've created an I Spy ornament kids can make inspired by one of our family's favorite Christmas stories, Mouse's First Christmas
 by Lauren Thompson. Even more exciting is that this craft is just one of OVER 70 ornaments inspired by Christmas stories that kids can make this holiday season!
This post contains affiliate links. Please see my website disclosures for more information.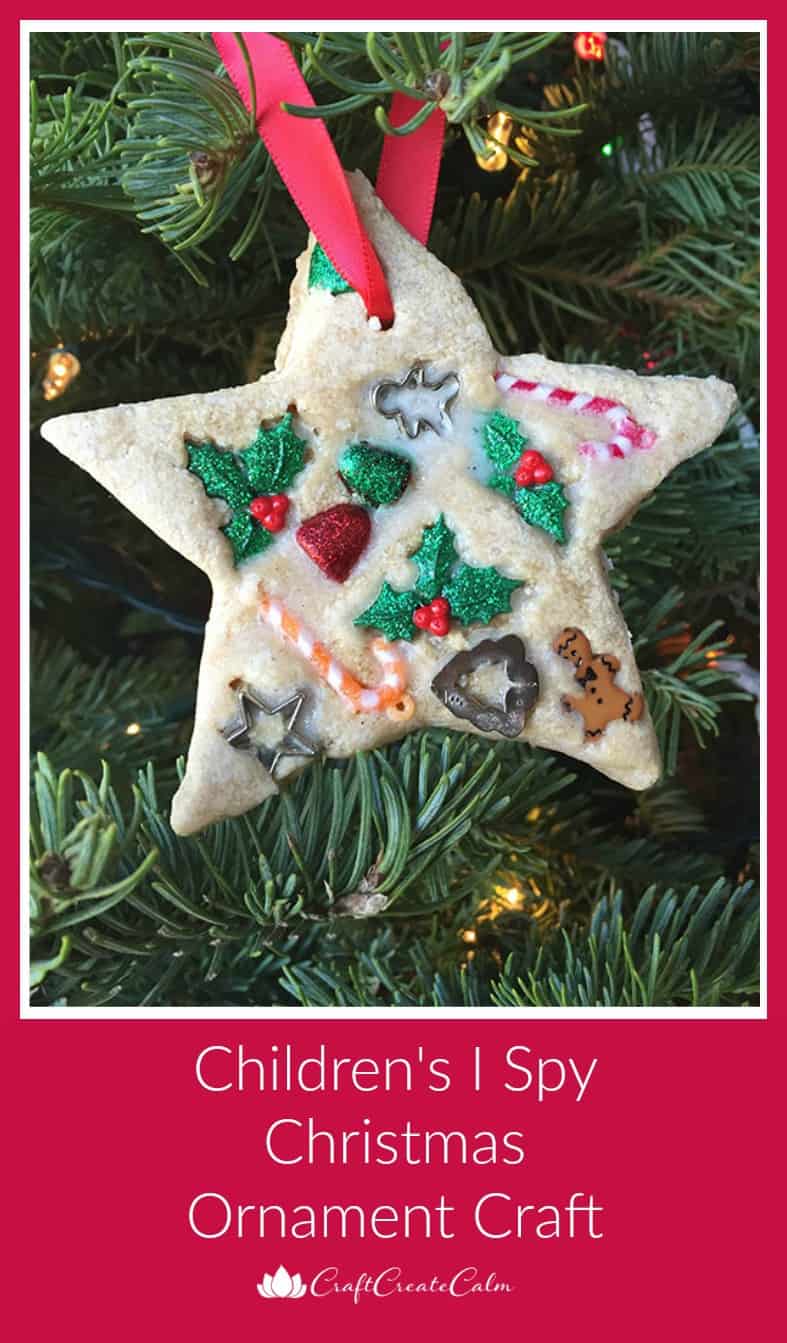 The Story
Mouse's First books are a favorite for our family, and Mouse's First Christmas is our almost favorite. (Our favorite is Mouse's First Halloween.) The story starts with the traditional line from 'Twas the Night Before Christmas, but something is stirring, a little mouse. Mouse explores the house to find all kinds of Christmas goodies. Candycanes, cookies, and even Santa, who shares with mouse, a wonderful present. This kid's I spy ornament lets your little ones be just like mouse as they search for tiny Christmas surprises!

What You'll Need to make a Kid's I Spy Ornament:
Salt dough (see recipe below)
Christmas Miniatures
 (holiday themed beads work too!)
Sealer such as Modgepodge
The first thing you need to do is make a batch of salt dough. I used whole wheat flour, kosher salt, and water. 
1 cup flour
3/4 cup salt
3/4 cup warm water
Cookie Cutter (optional)
The dough should be like play-dough, not sticky. Add flour or water as needed to get the right consistency.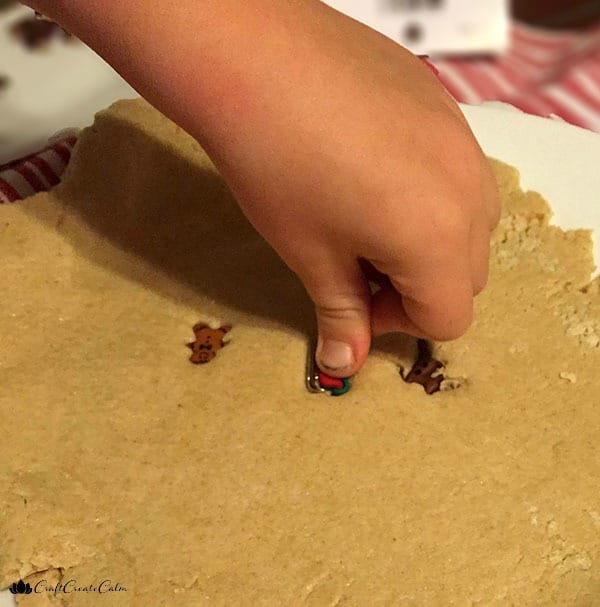 Roll the dough out on your countertop until the dough is a little less than 1/4″ thick. Pour the miniatures in a bowl and let your child push them into the dough. Use the cookie cutters or a butter knife to cute shapes out of the dough. Turn the shapes over and add a few more miniatures to the backside of the kid's I spy ornament. Use a nail to push a hole through the ornament for hanging purposes. Transfer to a baking sheet.
Bake the shapes in your oven at 200 degrees for about 1.5 hours. Be sure to keep the temperature low, and note that oven temps vary.
Once your ornaments are cool, apply sealer and let dry.
Use a ribbon to hang your ornament on your tree for everyone to see!
Now your kids can be just like the mouse in Mouse's First Christmas, spotting Christmas surprises on their I Spy Ornament!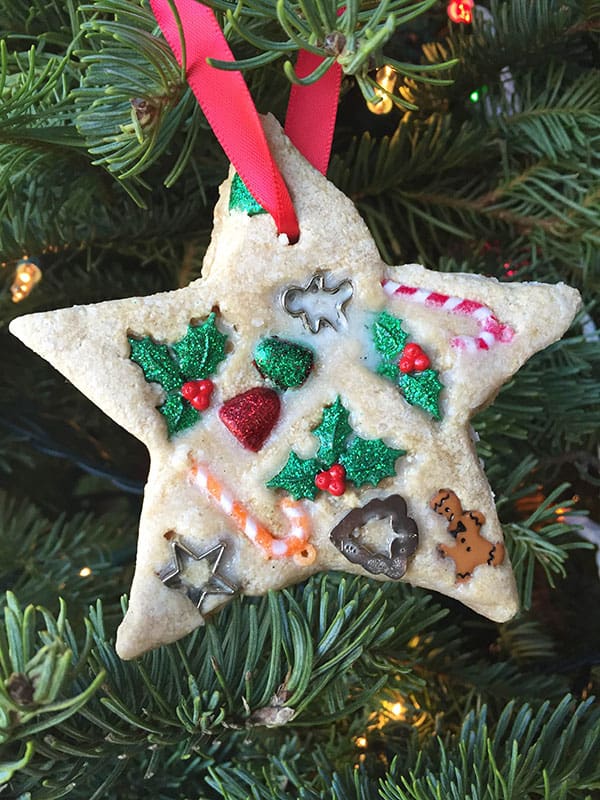 Christmas crafting and books go together!
Kid Made Carpenter Tree Ornament-Bambini Travel
Glitter Popcorn Ornament-Sunny Day Family
Fragrant Orange Pomander Ornaments-The Soccer Mom Blog
Icicle Bunting Inspired by Jack Frost-Witty Hoots
Paper Plate Baubles-Arty Crafty Kids
Little Book of Kisses Christmas Tree Ornament-zingzingtree
No Drama Ornaments for a Llama Drama Story-Books and Giggles
Double Sided Elmo and Grover Ornaments-Glue Sticks and Gum Drops
Here are some links to my favorite Mouse's First books.
Mouse's First Halloween (Classic Board Books)
Mouse's First Snow (Classic Board Books)
I linked this post up!