Free Heart Template & Stencil Printable Pack
We may earn money from the products/companies mentioned in this post. As an Amazon Associate I earn from qualifying purchases. For more information, read our Terms & Disclosures.
These free printable heart templates are ideal for use as stencils, patterns, and in your crafts. They're also excellent for learning activities with your school activities, paper crafts, making cards, and even scrapbooking.
If you're looking for free printable heart templates and stencils, look no further. This free printable heart template pack includes extra large heart stencils as well as extra small heart templates…and all the sizes in between!
There are even card heart templates to use. If you've been looking for a pattern for hearts, this variety pack is perfect…and costs nothing.
Get them today; they are free to download instantly!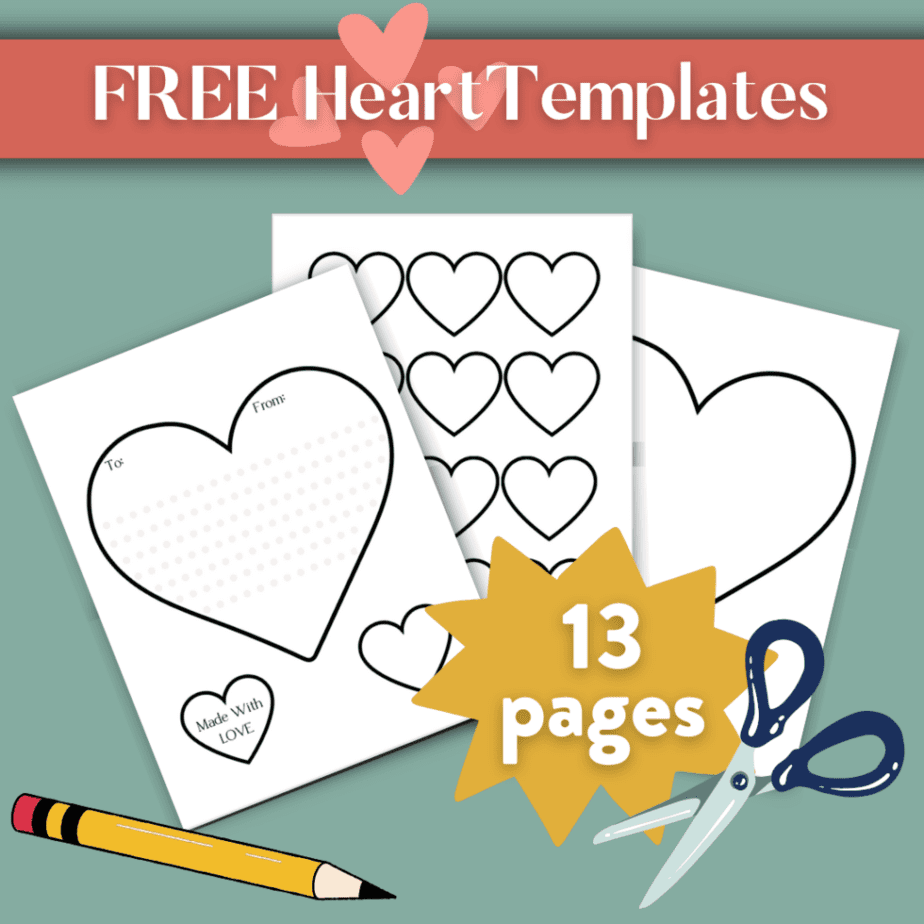 Since becoming a mom with kids who love to craft (and dipping my own toes into the crafting pond), I can't tell you the number of times I've googled things like "heart templates."
After enough searching for the right sizes…be they for homemade Valentine's cards and crafts, big printable heart decorations for Mother's Day gifts, labels for kitchen jars, or random crafts…it was high time to create them! Printable cut out hearts really are a fun thing to have on hand.
Now there's no need to try to draw a perfect heart or hunt down a stencil to make one. Just pick the size of heart you want and use the appropriate template or make it into a stencil!
What Heart Template Printable Stencils & More Are Included?
When you get the free heart template PDF printables pack, you get the following pages:
Extra large heart template and stencils
Medium sized heart template and stencils
Small sized heart template and stencils
Heart card pattern for Valentine's, Mother's Day, or just because
Cut out heart pattern for homemade folding cards
Heart coloring sheet
…and more hearts to print out and color!

Check out our other resources for educational activities for kids and our fun printables for kids and mom!
How To Use Your Heart Template Printable Pack
You are going to have so much fun with this!
Turn your kids loose, cutting out hundreds of hearts, coloring them, and then sprinkling them around the house for Valentine's or Mother's Day.
The cutting is fantastic fine motor skill practice, the coloring is great for the creativity, and they'll love decorating the home with their own "heart confetti."
You can also use the heart templates to make greeting cards to send to grandparents or give to friends. Yes, they can be homemade Valentine's, but love is a 24.7.365 thing so they can use them any day of the year!
These also make excellent stickers if you print them on sticky paper and can be labels for gifts or to seal on envelope, on sandwich baggies in their lunch box as a surprise with a note from mom, and for cute labels for boxes and jars.
How Do I Get My Free Heart Template Printable Stencils?
Simply click the image below and the free heart template and stencil printable pack will download directly to your device. Don't worry, they're completely free. That's it…simply Print and Play!