Free Square & Rectangle Printable Templates
We may earn money from the products/companies mentioned in this post. As an Amazon Associate I earn from qualifying purchases. For more information, read our Terms & Disclosures.
Get your free printable square and rectangle templates to use as cut out shapes, outlines, and stencils for your next project, paper craft, educational activities for kids and scrapbooking day. With a variety of sizes, you can choose from tiny to extra large squares and a variety of rectangles, as well.
If you're looking for free printable square and rectangle templates and stencils, here's what you need (and these stencil templates are free to print right now!).
This printable template pack includes all different sizes of squares and rectangles to cut out, use as stencils, trace, and more. Each size is labeled so you can print the one page you need or print the whole pack to have many to choose from, depending on your needs.
Get them today; they are free to download instantly!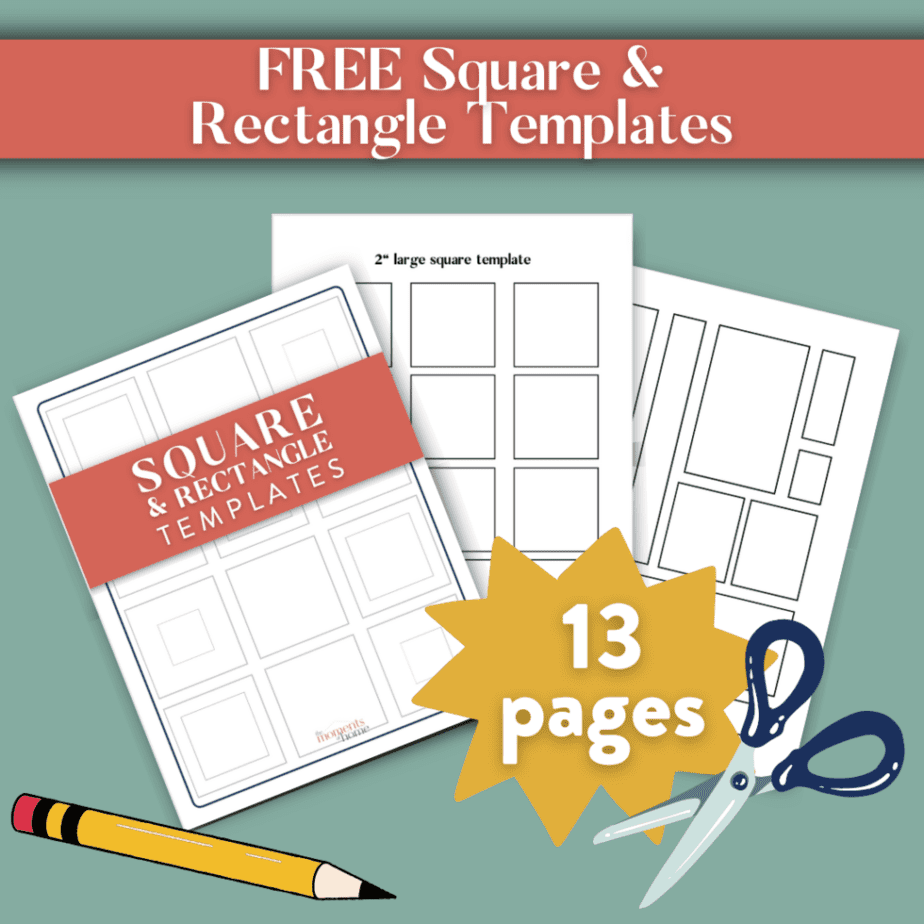 Since becoming a mom with kids who love to craft (and dipping my own toes into the crafting pond), I can't tell you the number of times I've googled things like "geometric shape templates", "circle templates," "heart templates," and "square templates"…to name a few!
After enough searching for the right sizes and shapes for my square and rectangle templates, I realized it was high time to create them!
My kids love practicing their cutting skills with these shapes and then coloring and pasting them to make mosaic pictures.
What Square & Rectangles Template Printables Are Included?
When you get the free heart template printables pack, you get the following pages:
7.5″ extra large square template
3″ medium square templates
2″ small square templates
1.5″ and 1″ extra small square templates
Various sized rectangles
Rectangle brain teaser
…and more!

Check out our other resources for educational activities for kids and our fun printables for kids and mom!
What Will I Use These Rectangle Printables and Square Templates For?
We like to make our own memory game with the kids either using stickers, writing letters, or drawing shapes on one side of the square and coloring the other side. It's like your own deck of memory cards!
Another great use is for labels if you print them on sticky paper.
The square templates can also be used as stencils. They are fabulous with scrapbooking and great to use for visual interest on your homemade paper cards.
Combine them with our other template shapes and print them on card stock and let the kids cut them out and use them like tanagram pattern blocks to make shapes and mosaic pictures. Educational shapes playing is important!
There's also a fun brain teaser included with this square and rectangle printable pack; we've enjoyed using it for logic, critical thinking fun, and even a timed competition party game!
How Do I Get My Free Square & Rectangle Template Printable Pack?
Simply click the image below and the free square and rectangle template and stencil printable pack will download directly to your device wherever you have your downloaded files set to be stored.
Don't worry, they're completely free. That's it…simply Print and Play!
You can print them on regular paper, card stock, and even sticker paper for a variety of uses.