Free Printable Circle Template Pack
We may earn money from the products/companies mentioned in this post. As an Amazon Associate I earn from qualifying purchases. For more information, read our Terms & Disclosures.
Get your free printable circle templates! Perfect for round shapes, outlines, and stencils for your next project, paper craft, and scrapbooking day. There are large circle templates all the way down to small 1/2″ circles (there are nine sizes altogether). Also excellent for use with educational activities for kids!
If you're looking for free printable circle templates for your next craft or DIY day, look no further. This free printable circle template pack includes 7 1/2-inch circles, 1/2-in circles, and several sizes in between! In fact, there are NINE SIZES of CIRCLE TEMPLATES below.
You can use our 2″ template circles to make 2-inch round labels, use the mini ones to make polka dots, plus there's even an extra large circle template should you need one!
Never again grab for mugs, glasses, toilet paper rolls, cans of corn, or bottle caps to get your perfect circles in various sizes – and no more trying to trace around your hand as you hold them perfectly in the exact right spot, either. Hallelujah, amIright?
The pages of circle cut outs to print are far more versatile and helpful than you realize at first glance! Plus, they are FREE. Yup, free circle templates. No email, no money, no nothing…just click and download.
After all, when you're in the middle of a craft project and you want your circle shape cut outs, you don't want to have to jump through hoops; that's why these circle templates are 100% free and easy to download right now!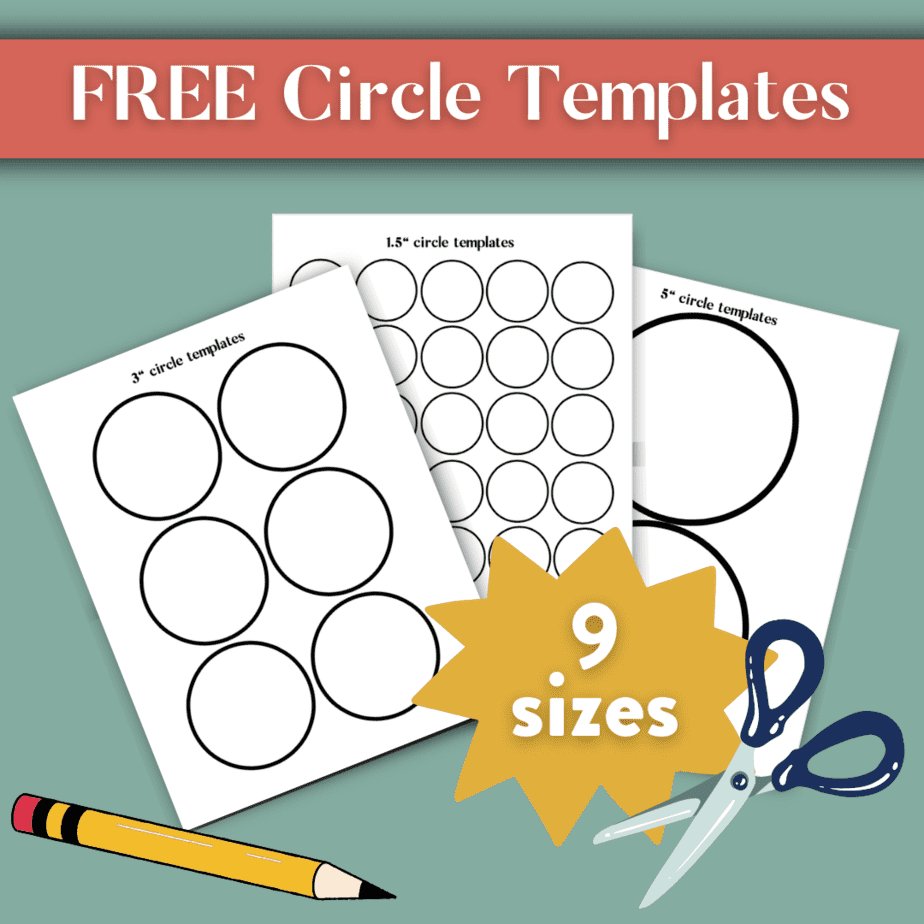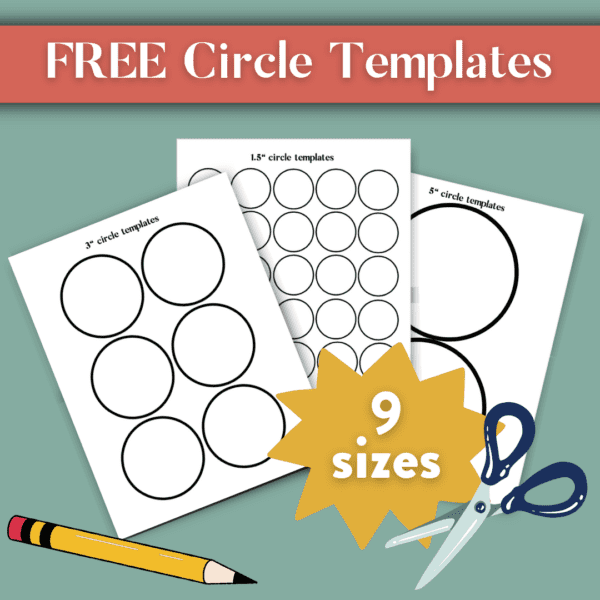 Since becoming a mom with kids who love to craft (and dipping my own toes into the crafting pond), I can't tell you the number of times I've googled things like "circle templates"…not to mention heart templates, butterfly templates, square templates, and … well, you get the idea.
After enough searching for the right sizes…be they for homemade coins for pretend play, DIY checker pieces, blank faces to decorate with emotion expressions, or mason jar labels…it was high time to create them!
Now there's no need to try to draw a perfect circle or hunt down that compass to make one. Just pick the size of the circle you want and use the appropriate template!
What Sizes Circle Template Printables Are Included?
When you get the free circle PDF template printables pack, you get the following pages:
7.5 inch large circle template
5 inch circle template page
3.5 inch cicle template page
3 inch circle template page
2.5 inch circle template page
2 inch circle template page
1.5 inch circle template page
1 inch circle template page
.5 inch circle template page

Check out our other resources for educational activities for kids and our fun printables for kids and mom!
Tips For Printing Your Circle Templates
Printing your circle cut outs is easy; you'll just download the PDF and send it to your printer.
First, click the graphic below and download the PDF.
Second, open the PDF and send it to your printer.
Please note: these circle cut out templates were designed for 8.5×11 paper, but could also be printed 2-up on a page if you wanted even smaller circles or adjusted for A4 printing.
If you plan to use them as stencils or patterns, print the circle templates out on card stock for durability. Alternately, you can laminate the pages of circle templates and then either cut out the circles to trace OR cut from the middle of the circles out and create circle stencils.
These circle templates are free for your use, but aren't intended to be sold or re-sold. If you'd like to share with them with friends, just forward this post so they, too, can add our circle templates to their homeschool craft supplies or DIY art project space!
Pro-tip: If you're a serious crafter (or aspire to be one), you might enjoy using stencil making sheets for your circle templates. They'll last sooooooo long and be able to be enjoyed for all your circle cut out needs!
What Can I Do With These Easy Circle Templates?
So. Many. Things.
We've used them for gift labels, printing them out on sticker paper and coloring them. They make great polka dots and confetti, too!
My kids used them in this easy 3D ladybug paper craft to get the circles just so…and told me how cool it was to have them! For them, I print them out on card stock, cut them out, and they use them for tracing patterns.
Really, just cutting practice, then having the kids decorate and glue them is fabulous. It's great for motor skills.
We have also used them for labels on spice jars, mason jar lids, and other pantry labeling needs (again using them on sticker paper).
Another great use for these easy circle template printables is making paper Christmas ornaments to glue on cards, hang from the tree, and to give as gifts.
You can use the largest circle cut out as a blank face and let kids color expressions on them and talk about emotions.
And, of course, there's always classic scrapbooking uses! Circle cut out templates are easily one of the most versatile there is!
How Do I Get My Free Circle Template Printables?
Simply click the image below and the free circle template printable pack will download directly to your device. Don't worry, they're completely free — and you get your circle cut outs immediately. That's it…simply Print and Play!