100 Must Have Art Supplies for Preschool and Kindergarten
We may earn money from the products/companies mentioned in this post. As an Amazon Associate I earn from qualifying purchases. For more information, read our Terms & Disclosures.
Whether you're stocking your classroom art supply cabinet or your homeschool art shelf, this guide is you ultimate supply list for preschool and kindergarten art supplies!
Doing arts and crafts with kids is a great way for them to learn, after all. But where do you start to have on hand the art supplies you'll want when you need them? Here's a list of 100 awesome art supplies for preschool and kindergarten aged children, so you can craft to your heart's content.
Art Supplies for Preschool & Kindergarten Craft Cabinets
Arts and crafts help children express their creativity, problem solve, hone fine motor skills…and have fun. Doing crafts with your kids? A priceless way to create memories, strengthen bonds, and have lots of interesting conversations over sticky fingers, glittery messes, and unique creations.
With 8 kids at home, we always have a little one (and someday I'll have grandkids!). That means my art cabinets are always full and ready for use because my favorite subject to delight kids with is art (along with language arts, history, and science…okay, okay, you caught me — anything but math!).
But sometimes you just don't know what to have on hand for creativity to flow. Plans are great, but inspiration often strikes little minds, and you want to be ready.
Here are 100 art supplies you may want to have in your closet, for whenever that burst of artistic whimsy strikes the heart of your little one or you have a rainy day of crafting at the table.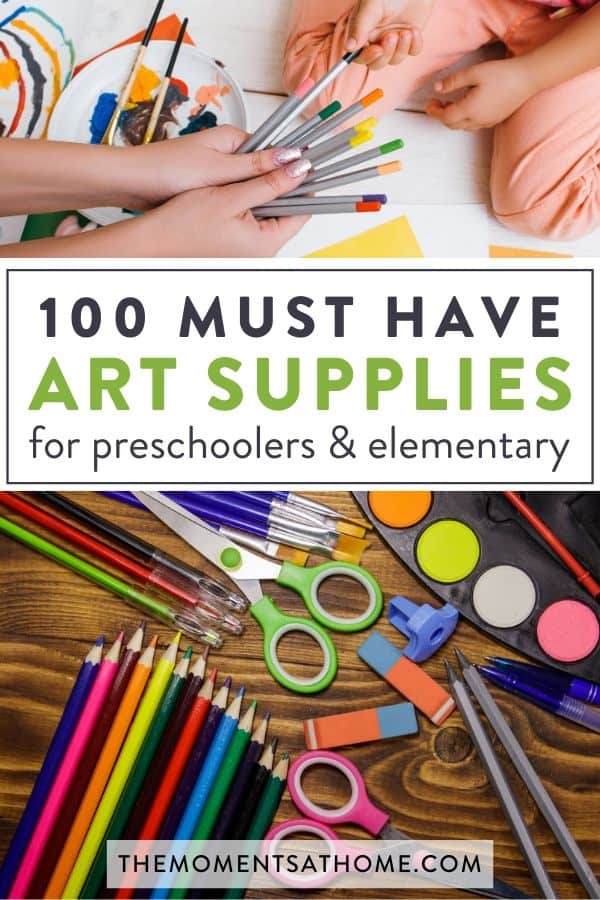 100 Art Supplies for Preschool and Kindergarten Children
Whether you have a day care, a classroom, or a home ripe with learning opportunities, art supplies are a must. Here are the top 100 art supplies to have on hand for preschool, kindergarten, and early elementary aged kids.
Paper Crafting Art Supplies
1. Colorful Construction Paper for backgrounds, shapes cutting, and all sorts of projects.
2. Copy Paper for printing worksheets, coloring pages, and to use as drawing paper.
3. Watercolor Paper for the more serious art lessons.
4. Newspaper (or craft rolls of paper) to cover tabletops during messy projects, and for art and craft projects.
5. Contact Paper for sun catchers.
6. Tissue Paper for too many crafts to list!
7. Paper Bags
8. Index Cards for making small crafts and flash cards.
9. Scrapbook Paper for crafting.
10. Graphing Paper for counting, mosaic creation, and block coloring.
If you're looking for some fun paper craft ideas, check out this paper shape train for toddlers, these fun paper ladybugs, or this quilled paper space wreath.
Art Supplies for Painting
12. Water Cups
13. Dish Cloth for cleaning brush between colors
14. Paper towels for cleaning brush between colors and clean up.
16. Finger Paints
17. Ink Pads for Fingerprint Art
19. Cut Kitchen Sponges for Painting
21. Paint Tray
22. Standing Easel
23. Tabletop Easel
24. Canvas for the more serious art lessons
25. Large Paint Brushes for Small Hands
26. Painting Smocks
27. Kwikstix Solid Tempera Paint
28. Sponge Painting Brushes and Rollers
29. Paint Pens for painting rocks, wood, and other surfaces
30. Cotton Balls
31. Clothes Pins to hold the cotton balls.
32. Q Tips for dot painting
For a fun painting craft, try one of these apple musical instruments or this absolutely "yummy" ice cream painting craft.
Drawing and Coloring Art Supply List
35. Thick Markers
36. Thin Markers
37. Colored Pencils
38. Pastels
39. Charcoal
40. Graphite Pencil
41. Ruler
43. Color Crayons
44. Eraser
45. Drawing Glove
46. Pencil Sharpener
Be sure to check out all of our free, fun printables for kids as well as the The Moments At Home Shop where you can find seasonal printables, geography and science pages, and so much more!
Art Activity Books for Kids
50. Ed Emberley's Complete Funprint Drawing Book
51. Drawing Book for Kids (Scratch Art)
52. Preschool Color and Activity Book
53. Cutting and Pasting Activity book
54. Melissa and Doug Scissor Skills and Tape Activity Books
56. Drawing Journal: Primary Writing and Drawing Journal for Kids
58. Paint by Stickers for Kids: Under the Sea
60. Paint by Sticker Kids: Beautiful Bugs
61. Melissa and Doug on the Go Colorblast! No Mess Marker Book
Books about Artists and Art Technique for Younger Kids
65. In the Garden with Van Gogh
66. A Magical Day with Matisse
67. 13 Art Techniques Children Should Know
70. Kids Art Works!
71. Recycled Craft Projects for Kids
Art Supplies for Developing Fine Motor Skills
72. Clay
73. Play Doh and Play Doh Tools
74. Scissors
75. Tweezers
76. Pipe Cleaners
77. Hole Punch
78. Beads
79. Strong stretchy string for cutting and stringing beads.
81. Slime
Check out these fun slime and dough recipes for some hands on art time!
Miscellaneous Art Supplies
82. Cardboard Tubes
83. Coffee Filters
84. Tape
85. PomPoms
87. Food Coloring
89. Glue Sticks
90. School Glue
91. Buttons
92. Stickers
94. Dry Erase Board
95. Chalk
96. Chalk Board
97. Googly Eyes
98. Laminator
99. Feathers
100. Paper Plates
Whew! That's a lot of art supplies! There are so many more I could list, these are the ones we've used and enjoyed…
Looking to get started with a single kit? Try this Busy Box from ALEX Toys.