Books about Rain for Preschoolers
We may earn money from the products/companies mentioned in this post. As an Amazon Associate I earn from qualifying purchases. For more information, read our Terms & Disclosures.
Want to explore, learn, read books about rain with your toddler, preschooler, or kindergartener? These weather books for kids are an excellent place to get your feet wet (haha). Kids will love learning all about weather and precipitation when you use these marvelously written and illustrated rain books for preschoolers.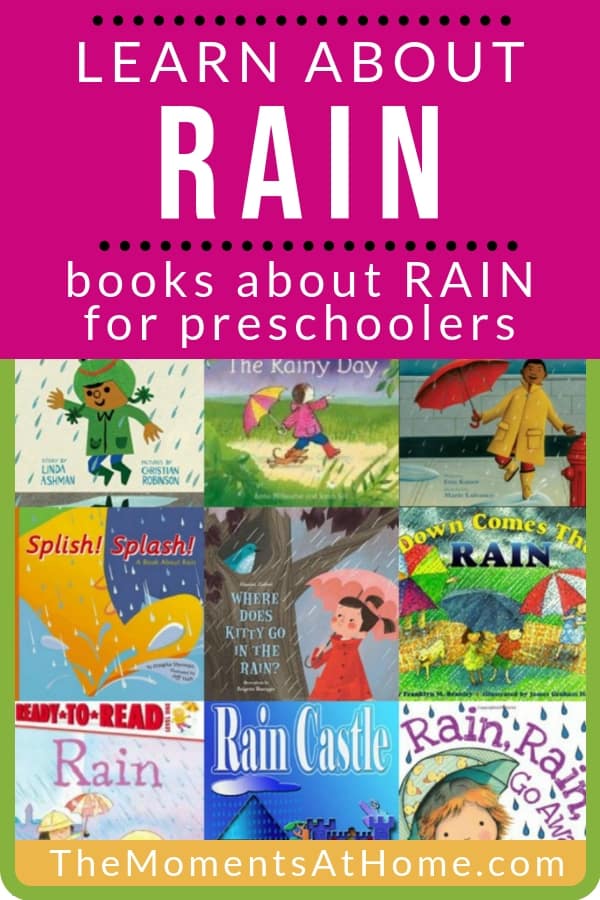 The Best Rain Books for Preschoolers (3-4 years old)
Rainy weather and a cozy blanket go perfectly with books about rain. Splash along with these characters as they play and learn about rain!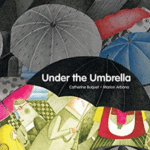 A lovely and lyrical book written in rhyme with a heart-warming message, this is probably my favorite book about rain to read to my preschoolers. You'll get caught up in the tale of stormy weather (and a stormy heart!) and the cherished gift of friendship.

Where Does Kitty Go in the Rain?
Kids will love searching for the kitty in this book while learning about how animals hide from the rain, and learn other facts about rain!
Level one reading book for kids who want to read right along with you!

Rain Castle: A Rain Filled Picture Book for Children about a Boy using Imagination on A Rainy Day
In this short story, Ben feels bored on a rainy day, but his imagination takes him on an exciting adventure! A cute story to show kids that rainy days don't have to be boring!

Splish! Splash!: A Book About Rain (Amazing Science: Weather)
Part of the Amazing Science Weather Series, this book teaches children facts about rain science in short colorfully illustrated chapters.
Vibrant art work and a story about happy and bad moods. This little boy is excited about rain in the city, while the grumpy old man is mad. Will the grumpy old man's mood lift when he sees the little boy having fun in the rain?
Down Comes the Rain (Let's-Read-and-Find-Out Science 2)
We love the Let's-Read-and-Find-Out-Science series books, and this one is full of information about the rain cycle. Great for kids who love science!
Watch winter snow melt and spring flowers bloom as the seasons change in this story full of softly colored outdoor scenes.
Beautifully illustrated and full of descriptive words about rain, this story about a boy playing in the rain is a sweet read for kids of all ages.

Who Likes the Rain? (Exploring the Elements)
Lift the flaps in this fun fact filled story to learn about why it rains, what rain drops are, and why it smells different outdoors after it rains. Part of the Exploring the Elements series.
Explore a rainy day from start to finish with this book full of watercolor illustrations. Why do animals need rain? You can find out why and more about rainy days in this story.
Books about rain can be a great addition to a totschool or preschool weather unit!
The Best Books About Rain For Toddlers (1-3 year old preschoolers)
Now what if you've got younger ones at home? Either they want to learn about rain, too, alongside an older brother or sister, or you're getting on a jump on preschool…your toddler wants you to read books about rain. So let's do it, Mama!
A rainy day has all the animals on the farm feeling gloomy; but not duck! The little white duck enjoys splashing and playing in the rain!

One Rainy Day (Padded Board Books)
Discover colors as duck plays in puddles with his red boots in this board book for toddlers and preschoolers.
Enjoy the classic preschool song in this board book!

Splish-Splash Spring! (Sesame Street) (Pictureback(R))
Dance in the rain on Sesame Street in this cute rhyming story. Bonus stickers included!
Love rainy day adventures? Below are more posts with rain activities for you to enjoy!
How To Make A Rain Gauge At Home
DIY Bubble Wand For A Rainy Day
Construction Paper Shapes Rainbow Craft