The Best Chapter Books For 3rd, 4th, & 5th Graders
We may earn money from the products/companies mentioned in this post. As an Amazon Associate I earn from qualifying purchases. For more information, read our Terms & Disclosures.
Looking for a fun, engaging read for your child? Finding the best fit chapter books for kids can be hard, but these are tried, tested and judged delightful by kids (and their parents/teachers!). Here's your ultimate guide to chapter books for 3rd, 4th, and 5th graders.
Reading is an amazing gift: you can visit different worlds, immerse yourself in another culture, gain compassion, experience adventure, and learn fun facts…all from your favorite corner of the couch.
Of course you want your child to experience this magic and wonder!
But it can be challenging to find the right books for them. These selections of chapter books for 4th and 5th graders make excellent read aloud selections as well as independent readers.
These books are ideal for 8-10 year old students with an average reading level. They'll introduce new vocabulary, but also be engaging enough that your kids will want to keep reading!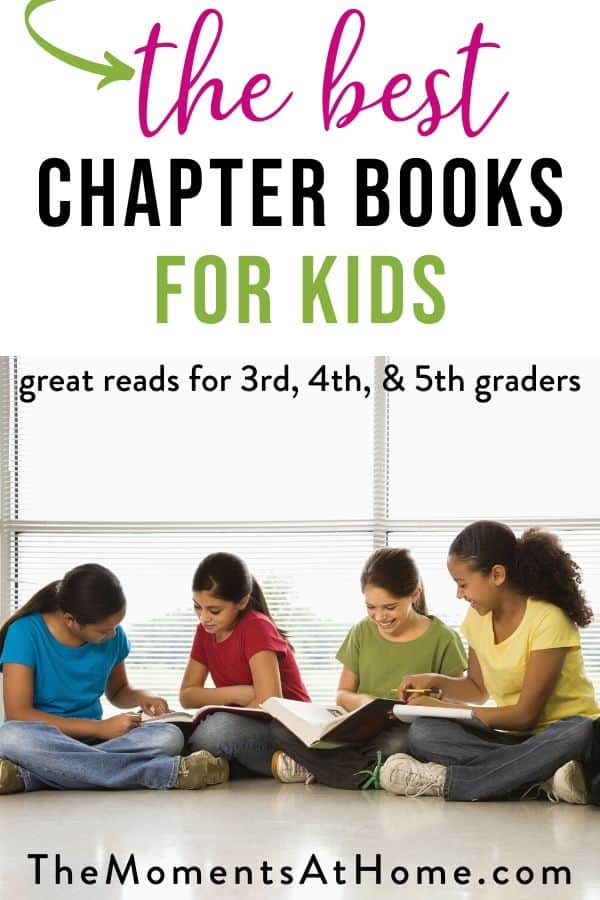 Best Reads: Chapter Books for 3rd Graders
Third grade is an exciting time for readers. They are diving into the world of chapter books, getting to know more vocabulary, and ready to digest some amazing adventures. These books will make a great fit for this delightful age.
Boxcar Children by Gertrude Chandler Warner
The Boxcar Children tells the story of four siblings who live in a boxcar after their parents die. They eventually find a home with their grandfather, but not before experiencing many adventures along the way. This classic story is beloved by many and is perfect for young readers.
The Ramona Books by Beverly Cleary
The Ramona Books tell the story of Ramona Quimby: precocious, adventurous, and often troublesome…but with a big heart. She's always active and loves to explore which often gets her into trouble at school and at home.
However, at the end of Italy, she always manages to find a way to make things right in the end and learn a lesson while she's at it. Early readers will find her tales quite amusing and easy to read, making the transition into chapter books a treat!
Top Picks: Chapter Books for 4th Graders
These books are some of our favorite tales and I'm sure your kids are going to enjoy them too. Read on to discover which books made our top picks for the best chapter books for 4th graders!
The Fantastic Mr. Fox by Roald Dahl
The Fantastic Mr. Fox is a story about a clever fox who outsmarts three farmers. Although he is finally caught, he escapes and lives to tell the tale! This story is full of humor and adventure making it a favorite among children, and shares an important lesson that is common among this author's books: unkindness and selfishness never win out in the end.
BFG (Big Friendly Giant) by Roald Dahl
The BFG is a story about a big friendly giant who captures and takes care of orphaned children, bringing them to his home in the clouds where they live happily together. However, when the other giants learn of his actions, they set out to capture him. And so the adventure begins…
The Squirrel Squire by T.A. Barron.
The Squirrel Squire is a delightful tale of rodents and royalty. When young John Godwin is made squire to the king's daughter, he must put aside his dreams of becoming a knight and adapt to life in the castle.
But when the king is kidnapped, it's up to John and his new friends – a squadron of brave squirrels – to save the day. This story is ideal for young readers who love animals and adventure — and for those who enjoy an empowering tale of beating the odds and overcoming your own fears.
The Secret Zoo by Bryan Chick
The Secret Zoo is a story about a group of kids who discover a secret zoo hidden in their town. The zoo is home to all kinds of animals (including some the kids have never seen before!). They soon discover that the zoo is in danger and must find a way to save it…but can they?
Wish by Barbara O'Connor
We've all made wishes. Sometimes it's when we blow out the birthday candles. Other times it's when throw a penny into a fountain. But eleven-year-old Charlie Reese is a pro and knows more ways to make wishes than anyone! In fact, she's been making the same secret wish every day since fourth grade.
Charlie's gone so far as to make a list of all the ways there are to make a wish, and she isn't giving up. However, when she's sent off to live with family in another state, it looks like wishes just won't be enough.
With the help of a scrawny stray dog and a surprising neighbor, she discovers that her wishes may actually not be what she wanted after all! But what is?
Pax by Sara Pennypacker
Pax by Sara Pennypacker is a story about a boy and his pet fox. When the boy's father goes to war, the young boy promises to return for the fox he must leave behind. However, when he keeps his promise, he finds that another family has taken him in.
Pas follows the journey of love between a boy and his pet and explores friendship and loyalty, as well. This story is perfect for young readers who are looking for an emotionally captivating read, as well as a great family read aloud that will open the doors for meaningful conversations.
The Secret Lake by Karen Ingles
This story follows the adventures of two kids who find a secret lake in the woods near their home. They soon discover that the lake is home to all kinds of creatures, including a group of mischievous monkeys. This tall tale is sure to delight!
The One & Only Ivan
Ivan is a gorilla who has lived in a cage at a shopping mall his entire life. He is content with his life, until he meets Ruby, a baby elephant who has been taken from her family. Ivan helps Ruby escape and they go on a journey to find her family.
This book has been a favorite amongst all of our kids, with older siblings introducing it to younger ones with great joy!
Inside Out & Back Again by Thanhha Lai
Inside Out and Back Again tells the story of a young girl, Hà, who escapes the Vietnam War and comes to live in America. Hà struggles to adapt to her new life in a strange country, learning English and making new friends. But she never forgets her homeland, and she dreams of one day returning to Vietnam.
Finally, after many years, Hà is able to make the journey back. She is amazed by how much has changed, but she also finds that some things remain the same. This is a poignant tale of venturing into the unknown and roots that go deep.
Charlotte's Web by E.B. White
Charlotte's Web is a classic tale about a pig named Wilbur who befriends a spider named Charlotte. When Wilbur is in danger of being killed, Charlotte sets out to save his life with creativity and eventually great personal cost because of her love for her friend. This story is full of warmth and friendship, making it a timeless favorite.
Tornado Trophy by Betsy Byars
When they saw a tornado in the distance, the family quickly gathered into the storm cellar. The storm raged outside, but Pete, the farmhand, knew this was the perfect time to tell his stories about a dog named Tornado.
Crenshaw by Katherine Applegate
Crenshaw is the story of a homeless cat who takes up residence in the life of a young boy named Jackson. When Jackson's family falls on hard times, they are forced to move into their van. Crenshaw appears shortly after they move and Jackson quickly comes to love the big, fluffy cat. He helps Jackson to cope with the difficult situation he finds himself in and teaches him the importance of hope.
The story is heartwarming and ultimately uplifting. Applegate's writing is simple and straightforward, making Crenshaw an ideal choice for young readers. Though the subject matter is heavy, the story is ultimately hopeful and will leave readers feeling inspired.
The Jedi Academy Series by Jeffrey Brown
The Jedi Academy series is a set of YA novels written by Jeffrey Brown. As the series follows the adventures of Roan Novachez, a young Jedi apprentice, you'll read that he attends the Jedi Academy on the planet Yavin 4.
The first novel in the series, Jedi Academy: A New Hope, was published in 2013 and was followed by three sequels. These are Jedi Academy: Return of the Padawan (2014), Jedi Academy: TheForce Overcomes (2015), and Jedi Academy: The Ultimate Challenge (2016).
These novels have been well-received by fans of Star Wars and have been praised for their humor and heart. If you're looking for a fun and exciting read that will take you to a galaxy far away, be sure to check out the Jedi Academy series.
Wonder by RJ Palacio
Wonder is a novel by R.J. Palacio about a boy named Auggie Pullman who has a rare facial deformity. He has been homeschooled by his mom up until 5th grade, when he decides to go to middle school.
Auggie is nervous about how he will be treated by other kids and whether or not they will accept him. However, he soon learns that there are people at school who are kind and accepting. And because of this, he begins to make friends.
Wonder is a story about acceptance, courage, and kindness. It is an uplifting story that will stay with readers long after they finish the last page. After you finish the book, the movie is an excellent family flick!
Charlie & The Chocolate Factory by Roald Dahl
Charlie Bucket lives in poverty with his parents and four grandparents. One day, Willy Wonka, the most amazing chocolate maker in the world, decides to give away five golden tickets. As he hides them inside his chocolate bars, the finders of these tickets will be given a tour of his factory as well as a lifetime supply of chocolate.
The golden ticket give Charlie so much more of an adventure than he ever could have imagined! There are other winners, too, and the tale is not just humorous but insightful as character and kindness are rewarded. Charlie learns that it is better to be kind than rich and your children will get to see this lovely lesson play out.
They will also see that wealth and generosity are privileges that can be used well and give children aspirations to make a lovely impact in the lives of others.
The Phantom Tollbooth by Norton Juster
The Phantom Tollbooth is a classic children's book that tells the story of Milo, a bored young boy without purpose who discovers a mysterious tollbooth in his room. When he decides to enter, he finds himself transported to a strange land.
There, he embarks on an adventure to rescue the princesses, Rhyme and Reason. Along the way, Milo meets a cast of colorful characters and learns many important lessons. The Phantom Tollbooth is a timeless story that has been beloved by generations of readers for its fun tale and masterful wordplay.
This book is an excellent way for kids to learn to appreciate well written literature as well
Fabulous Chapter Books For 5th Graders
The following books are some of our favorite chapter books for 5th graders; some kids may even jump into these chapter books in 4th grade, but many have slightly advanced vocabulary so it depends on where they are. Our kids loved these when they are 10 years old, and many of these are still prized possessions years later that they return to with smiles and delight.
The Chronicles Of Narnia by CS Lewis
I've worn out my copy of this set. Twice. That's how much I loved it and we read them aloud to our kids when they were in third and fourth grades.
But once they entered the fifth grade, our kids ready these chapter books independently…and loved every single one of them!
The Chronicles of Narnia is a seven book book series set in the fictional world of Narnia created by C.S. Lewis. The books follow the adventures of various children who are transported to Narnia, where they become involved in the struggle between good and evil. The books have also been widely praised for their ability to captivate readers of all ages and transport them to a magical world.
The Inkheart Trilogy by Cornelia Funke
The Inkheart Trilogy is a young adult fantasy series perfect for this list of chapter books for 4th and 5th grdaers written by Cornelia Funke. The series consists of three books: Inkheart, Inkspell, and Inkdeath.
The story follows the adventures of Meggie Folchart, a girl who discovers that she has the ability to bring characters from books into the real world. This power turns out to be both a blessing and a curse, as Meggie must deal with the consequences of her actions. The trilogy is an exciting and imaginative journey that will leave readers eager for more.
Percy Jackson and the Olympians by Rick Riordan
Percy Jackson and the Olympians is a series of five adventure novels written by Rick Riordan. The books chronicle the adventures of young Percy Jackson as he discovers his true identity and battles against the forces of evil. Percy Jackson is a demigod, the son of Poseidon and a mortal woman.
Percy sets out on a series of quests to save both the mortal world and the world of the gods. Riordan's novels are fast-paced and action-packed, filled with mythological creatures and fascinating characters. They are sure to appeal to readers of all ages, but seem perfect for fifth graders looking to read more chapter books.
The Call Of The Wild by Jack London
The Call of the Wild is one of the dearest chapter books for kids by Jack London and was first published in 1903. The story tells of the journey of a dog named Buck who is taken from his home in California to Alaska during the late 19th century Gold Rush.
Along the way, Buck must learn how to survive in the wild, fend off other animals, and protect his human companions. The novel is considered to be one of London's best works, and it continues to be popular with readers more than a century after its publication.
Number The Stars by Lois Lowry
Annemarie Johansen is a ten-year-old girl growing up in Copenhagen, Denmark during World War II. When the Nazis invade her country, Annemarie's life changes overnight.
Jews are no longer allowed to own businesses or go to school, and they are forced to wear yellow stars to identify themselves. Annemarie's best friend, Ellen Rosen, is Jewish and so Annemarie must say goodbye to her beloved playmate.
When the Nazis begin deporting Jews to concentration camps, Ellen's family goes into hiding. Annemarie risks her life to help them escape, and learns that even in the darkest of times, hope can still shine through. Number the Stars is a heartwarming tale of friendship and courage in the face of adversity.
Paper Wishes by Lois Sepahban
Paper Wishes follows the story of a young Japanese girl named Manami, who is living in an internment camp in the United States during World War II. The book follows her as she tries to find her way back to her family, and ultimately discovers the power of hope and resilience.
The book is beautifully written and provides a unique perspective on a difficult time in history. It is an inspiring story that will stay with readers long after they finish the last page.
A Wrinkle In Time by Madeleine L'Engle
A Wrinkle In Time is a science fiction novel we particularly like among this list of chapter books for 5th graders, which was written by Madeleine L'Engle and published in 1962.
The story centers around Meg Murry, a thirteen-year-old girl who is trying to find her father, a scientist who has mysteriously disappeared. Along with her brother, Charles Wallace, and her friend Calvin O'Keefe, Meg travels through time and space in order to find her father and save the universe from the evil beings known as the Dark Thing.
A Wrinkle In Time is a classic novel that has won numerous awards, including the Newbery Medal. It is also considered to be an important work of children's literature, as it addresses themes of family, morality, and science.
A Long Walk To Water by Linda Sue Park
A Long Walk to Water begins as two stories, told in alternating sections, about a girl in Sudan in 2008 and a boy in Sudan in 1985. The girl, Nya, is walking eight hours a day to collect water for her family. The boy, Salva, becomes one of the "lost boys" of Sudan, forced to leave his village and wander the countryside as he flees fighting.
A Long Walk to Water is an inspiring story about the power of determination and hope. It is also a reminder of the importance of access to clean water, something that many of us take for granted. This book is sure to stay with readers long after they finish the last page.
The Mixed Up Files Of Mrs. Basil E. Frankweiler by EL Konigsburg
It's so much fun to rediscover an old favorite of your own with your kids! That's what happened with this book. I still remember when my 5th grade teacher read this aloud to us and I was utterly captivated.
When Claudia Kincaid decides to run away from home, she knows she needs a destination and a plan. She soon settles on the Metropolitan Museum of Art in New York City as the perfect place to hide out, and hatches a scheme to live there undetected.
The Mixed-Up Files of Mrs. Basil E. Frankweiler is a timeless classic about taking risks, following your curiosity, and finding your own path in life.
Island Of The Blue Dolphins by Scott O'Dell
Island of the Blue Dolphins is a classic novel among these chapter books for 5th graders about a young girl stranded alone on an island for many years. The story is based on the true story of a Native American woman who was left behind when her tribe moved to another island.
Recounting the tale of how she survived on her own, and eventually was rescued by a passing ship, this book will grab the hearts and minds of young readers. Island of the Blue Dolphins is a compelling tale of survival and self-reliance, and is one of the most popular novels for upper elementary students.
Beyond The Bright Sea by Lauren Wolk
Beyond the Bright Sea is a historical fiction novel set in 1912 on an island off the coast of Massachusetts. The story follows Crow, a 12-year-old orphan who was found washed ashore on the island as a baby.
She has always been curious about her origins, and when she discovers a clue that leads her to believe she may be related to a famous lighthouse keeper who died in a fire, she sets out to find answers. Beyond the Bright Sea is a beautifully written tale of discovery, family, and friendship that will stay with readers long after they turn the last page.
The Indian In The Cupboard by Lynne Reid Banks
The Indian in the Cupboard tells the story of a young boy named Omri who finds a magic cupboard that can bring his toys to life. When he brings an Indian figure to life, he must learn to take care of it and keep it secret from his family. This story is full of imagination and adventure, making it a great choice for young readers.
The Penderwicks: Summer Sisters by Jeanne Birdsall
The Penderwicks: Summer Sisters is a novel by Jeanne Birdsall that follows the lives of four sisters over the course of forty years. The bulk of the story takes place during their summers spent together in rural Massachusetts, and each sister has her own distinct personality. As they grow older and move apart, the sisters must grapple with love, loss, and change while still remaining close to one another. The Penderwicks is a heartwarming story about sisterhood, family, and growing up that will resonate with readers of all ages.
Your Ultimate Guide To The Best Chapter Books For 4th Graders & 5th Graders
Chapter books are a great way for kids to improve their reading skills. They can also be a lot of fun! I'm sure you'll find plenty of amazing stories inside these chapter books for 4th graders and 5th graders. These books will keep your child entertained, all while they continue to improve their reading levels too! So if you're looking for a book to get your kiddo hooked on reading, one of these is sure to do the trick!
What Chapter Books For Kids Would You Add To This List?