Home School in the Woods Project Passport Review
We may earn money from the products/companies mentioned in this post. As an Amazon Associate I earn from qualifying purchases. For more information, read our Terms & Disclosures.

Project Passport from Home School in the Woods
Let's face it. History can be dull, especially from the view of a child. I'm always trying to find out of the box ideas for teaching historical facts to my kids. My tween son is all about history. He reads books about US history just for fun! My tween daughter would rather be chatting with friends then learning about ancient times. I loved using the Hands-on History Lap Pak: US Elections from Home School in the Woods to teach my kids about the branches of the government so when I was offered another curriculum from them I obviously said yes! We received the Project Passport Activity-Based World History Studies Ancient Greece cd in exchange for this review. The opinions are my own, I promise.
What is Project Passport?
I'm way more interested in ancient history than my kids which made me really push this curriculum. It's a good thing because they gave it a try and really ended up liking the lessons! The cds we got in the mail are Project Passport to Ancient Greece and Project Passport The Middle Ages.
Also available from Home School in the Woods are Ancient Egypt and Renaissance and Reformation.
How It Works
Each study can be ordered as a hard copy cd or you can download a digital copy. Included in the study is everything you'll need to teach your kids about the topic, plus tons of fun printables for hand-on learning activities. The text portion of the lessons can be printed out or read sitting at the computer. I chose to print the lessons out for my kids so they could be working on the lessons at the same time. Best of all are the teacher materials for this study. The only thing I know about ancient Greece is what I learned from documentaries and a couple classes in art school. Lucky for me Home School in the Woods has really broken this down for me by giving me my own set of printables to assemble into a notebook. Here's what's in my teacher guide notebook:
Introduction to the Course
Travel Tips
Travel Planner: Quick Stop Itinerary
Copies of the Worksheets (completed)
Travel Itinerary
The travel intinerary is probably my favorite part of how this study is set up. Kids are going on a virtual trip back in time to learn history and the itinerary is our guide to their travels. I can plan ahead as needed (not that I plan ahead, I'm a procastinator) and keep track of each STOP (lesson) along the way with a handy checklist. Our ancient Greece itinerary shows us how to pack for our trip (think printable passport, luggage template and a travelogue) through the Archaic Period, Greek Government, and to places in Greece like Athens and Sparta.
There are 25 STOPs in each Project Passport study which take about 6-8 weeks to complete. We cruised along the first few STOPS but had to take a break and pack it all up beause we're in the middle of a move. Now my youngest son wants to make a passport and luggage too!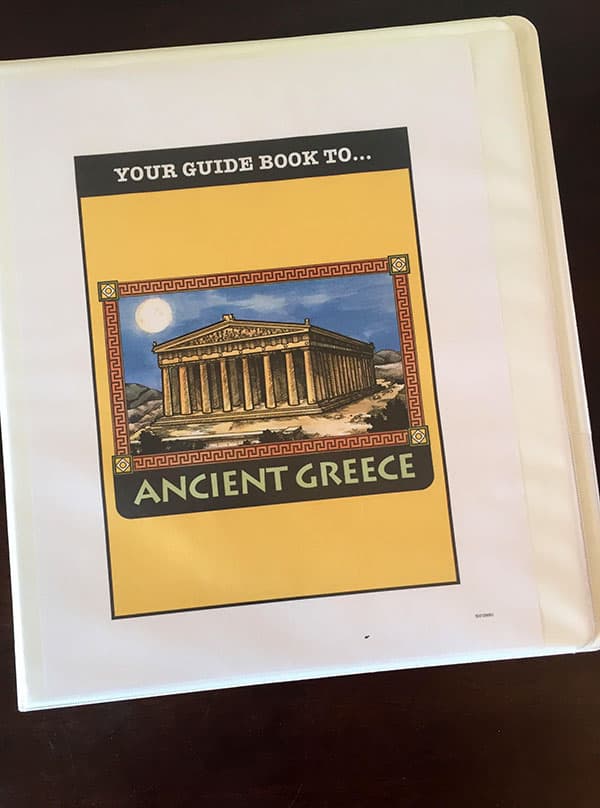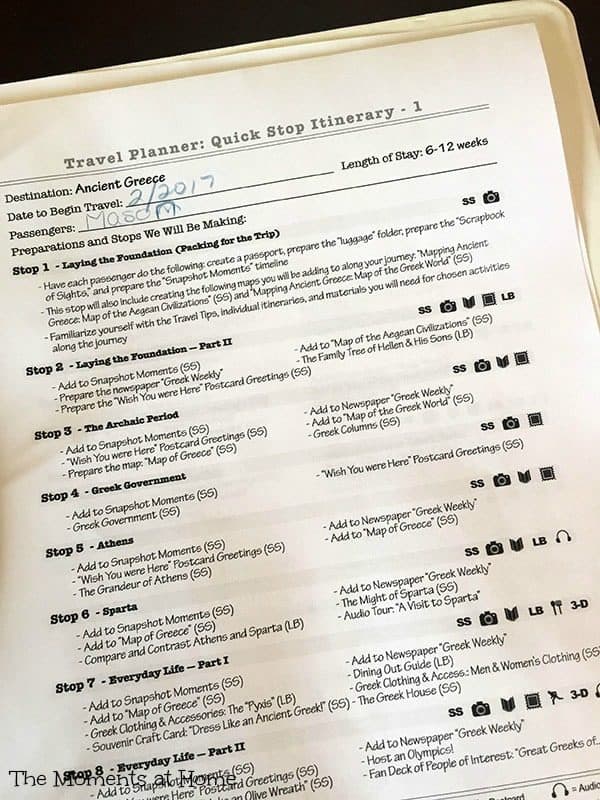 Hands-On History
Instead of sitting around reading a book and doing worksheets my kids have been busy taking a virtual trip through ancient Greece using hands-on history! I'm a hands-on learner so it's easier for me to teach hands-on too. If my kids see that I'm bored with curriculum they're going to want to put in less effort. I want my kids to look at history as exciting so their school work needs to have a little excitement too. Home School in the Woods offers several hands-on curriculum choices and like I said earlier in the post we've used their lap-book lesson to teach about the election process. Project Passport also comes with a lap-book, and so much more! Here's just a few things my kids have done in the first few lessons about ancient Greece:
Made passports for their travels
Assembled paper luggage (complete with a luggage tag) to keep their papers in while traveling
Put together notebooks for snapshots from their travels (this is a place for worksheets about each STOP)
Written a Greek Newspaper
Began a map of ancient civilizations
That's not all they've done but you get the idea on what hands-on learning is like with Project Passport.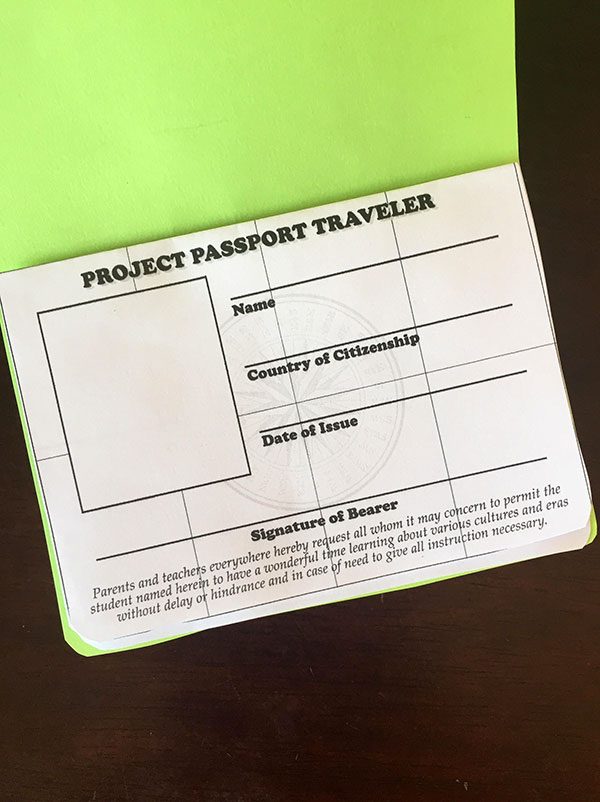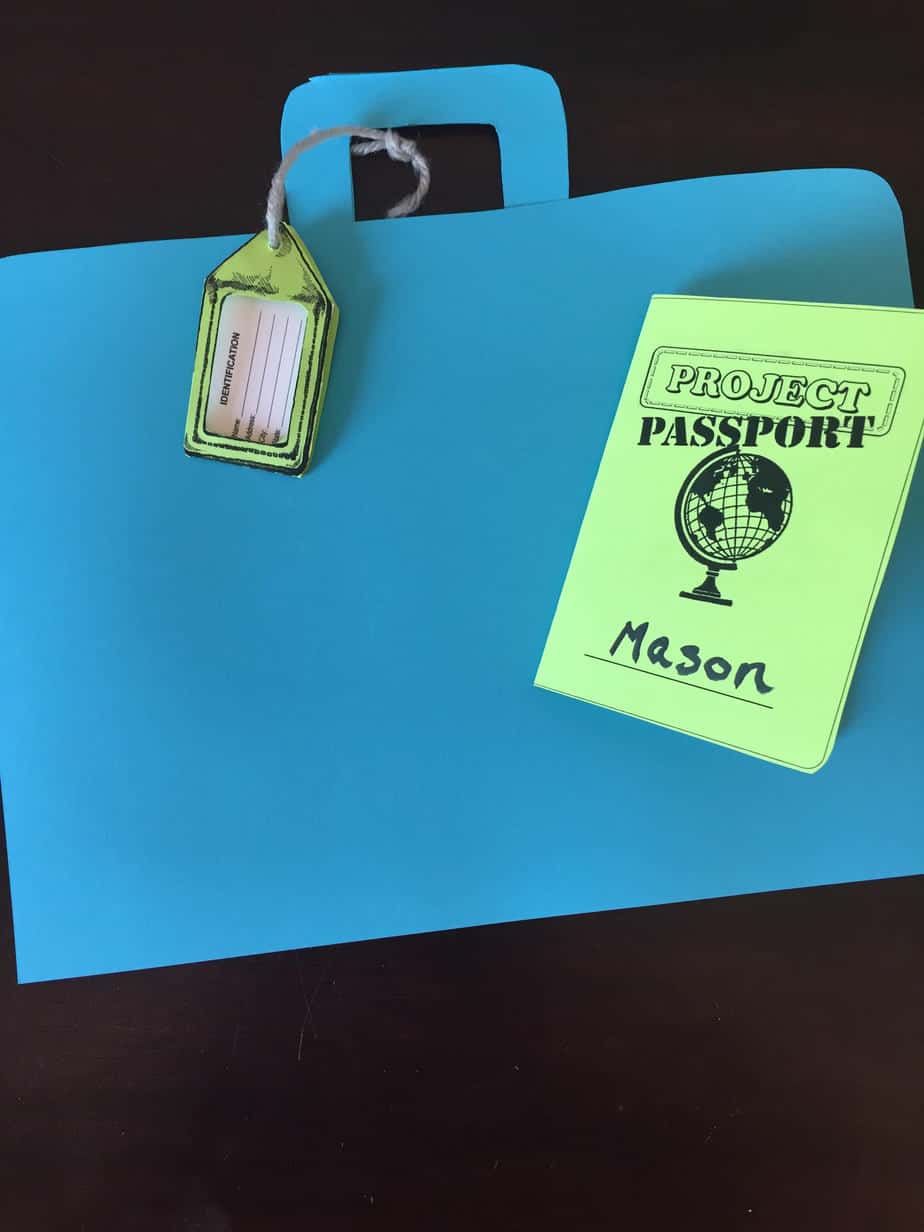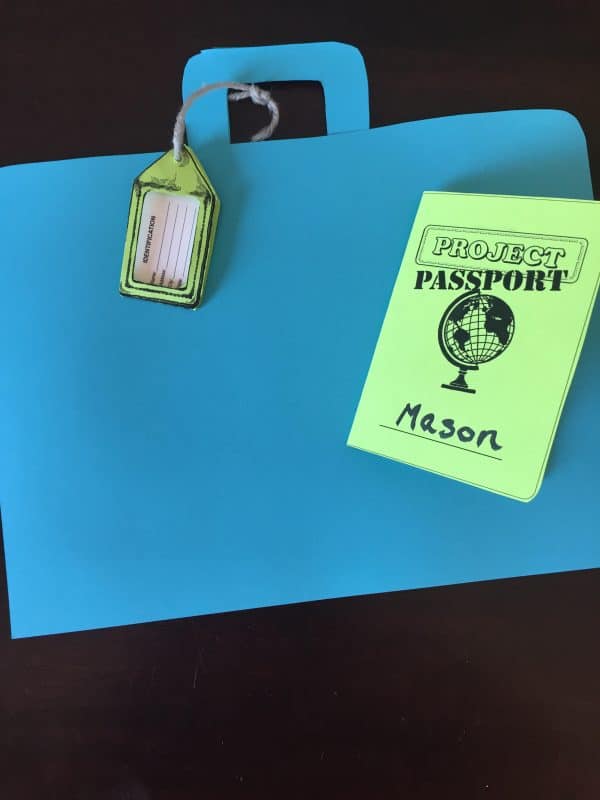 Keeping Homeschool Lessons Organized
We have so many papers for our homeschool. There's papers of my own, and then there's the beautiful art my preschooler creates, adding to our stack of papers. I prefer to teach with curriculum that is either digital or very organized into printable lessons. I have both with Project Passport. My kids' work is kept in their "suitcase" and a notebook, and everything I need is kept in my teacher guide.
The balance with hands-on history homeschooling and not accumulating too much school related papers is tough, but I feel like this curriculum nailed it for us homeschooling parents. My kids can put extra projects (like the diy post cards and maps) in the pockets of their notebooks. I can keep future worksheets in the back pocket of my teacher guide, printed and ready for the next lesson. So with this two month unit study all we need are the three ring teacher binder, a binder for each kid, and their luggage. Isn't that awesome?
We're just about to move and I'll be setting up a tbd homeschool space in our new place. Once we're settled I'll dig out the kids' Project Passport notebooks and luggage to continue on our hands-on history travels. It's so nice to know I have the next month of history lessons ready to go. After we're done traveling through ancient Greece we'll travel to the Middle Ages, so I have another two months of homeschool history planned out too! Then it'll be summer when we'll enjoy the sunshine with some field trips.