How to Make Fruit Pudding for Valentine's Day
We may earn money from the products/companies mentioned in this post. As an Amazon Associate I earn from qualifying purchases. For more information, read our Terms & Disclosures.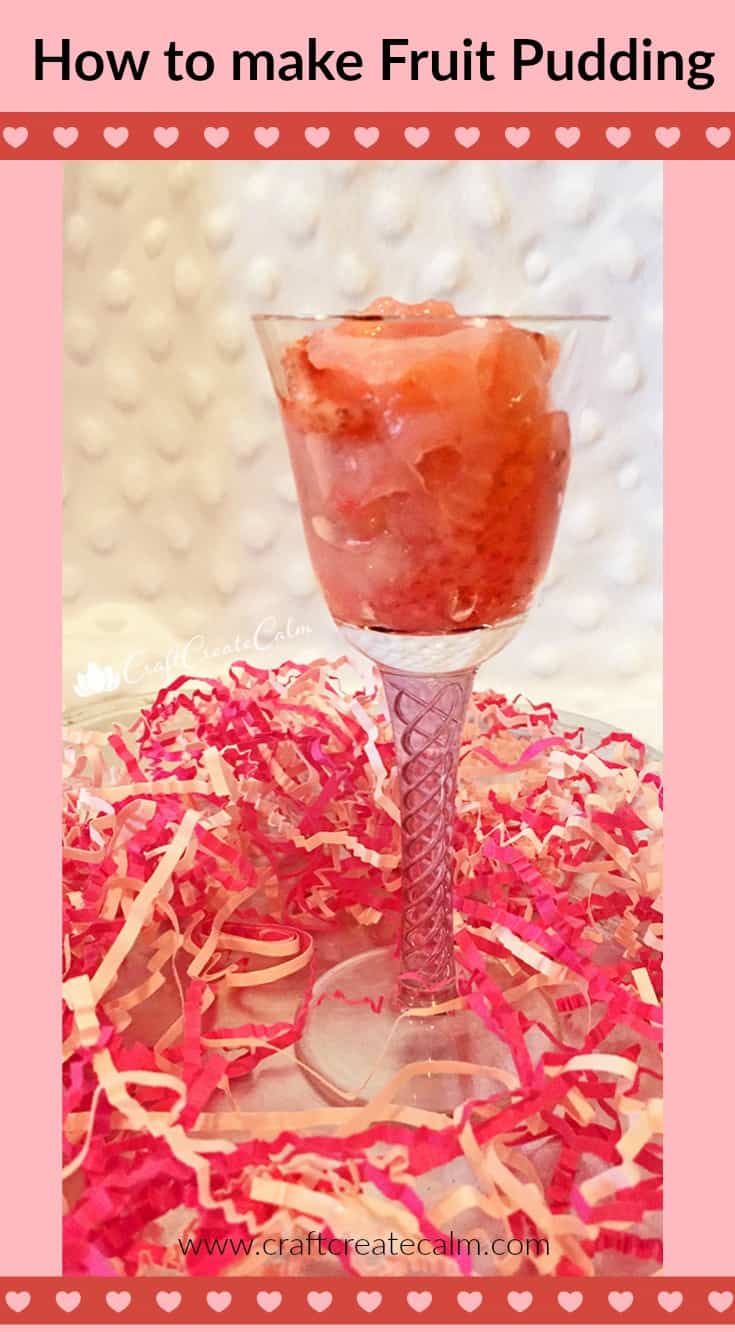 Looking for a sweet treat? Make fruit pudding for Valentine's Day! This pudding tastes yummy, and look how beautiful it is served in a glass!
How to Make Fruit Pudding
Do you know how to make fruit pudding? It's so easy! We made our Valentine's Day fruit pudding with strawberries and banana, which gave it the pretty pink color once it set. You can add any kind of fruit you'd like, but it will change the color of the pudding. Try blackberries or blueberries with strawberries or raspberries for a purple treat!
What you'll need to make a fruit pudding:
1 lb of fruit
4 Cups water
3 T cornstarch
1 T granulated sugar
1 Colander
Whipped Cream (optional)
Directions:
Wash and cut the fruit. The fruit doesn't need to be too small, so some smaller types of berries can stay whole.
Combine 2 cups of water and  the fruit in a medium sauce pan and heat to a slow boil. Reduce heat and let simmer for 15 minutes or until the fruit is tender.
Place a colander over a bowl and slowly pour the fruit and water mixture into the colander. Pour only the water back into the sauce pan, and pour the fruit from the colander into the bowl.
Place the sauce pan back on the stove and add the remaining two cups of water and bring to boil. Stir in the cornstarch and sugar. Continue to stir for about a minute to thicken the sauce.
Pour the sauce over the fruit in the bowl.
Refrigerate until the pudding firms, then serve alone, top with whipped cream.
To make your Valentine's fruit pudding extra fun, serve the treat in desert glasses with small spoons, or serve in small plastic cups for a class Valentine party!  If you're planning a special Valentine's Day for your family this strawberry treat makes a great surprise breakfast, snack or desert.