Diy Pirate Ship-Sail in for a Movie Night!
We may earn money from the products/companies mentioned in this post. As an Amazon Associate I earn from qualifying purchases. For more information, read our Terms & Disclosures.

Diy Pirate Ship from a cardboard box!
Hoist yer sails and sail in for a pirate themed family movie night! Celebrate Talk Like a Pirate Day, (or any day) with this diy pirate ship made from supplies you may already have around the house.
This post contains affiliate links. For more information on my use of affiliate links, please see my website Terms and Conditions.
What you'll need to build your ship:
1 cardboard box
Brown Paint
Glue/Tape/Staples or another way to attach two materials together
Black Paper
1 stick 2-3′ long
White fabric scrap
What You'll do:
Start by cutting the flaps off of the top of the box. Bend  one of the detached long flaps in half to create a crease and re-attach the flap to form a triangle-shaped point at the front of the ship, er, box. Cut a triangle shape out of a smaller detached flap to fit flatly on top of the pointed piece. See my photos below. Paint the outside surfaces of the box brown.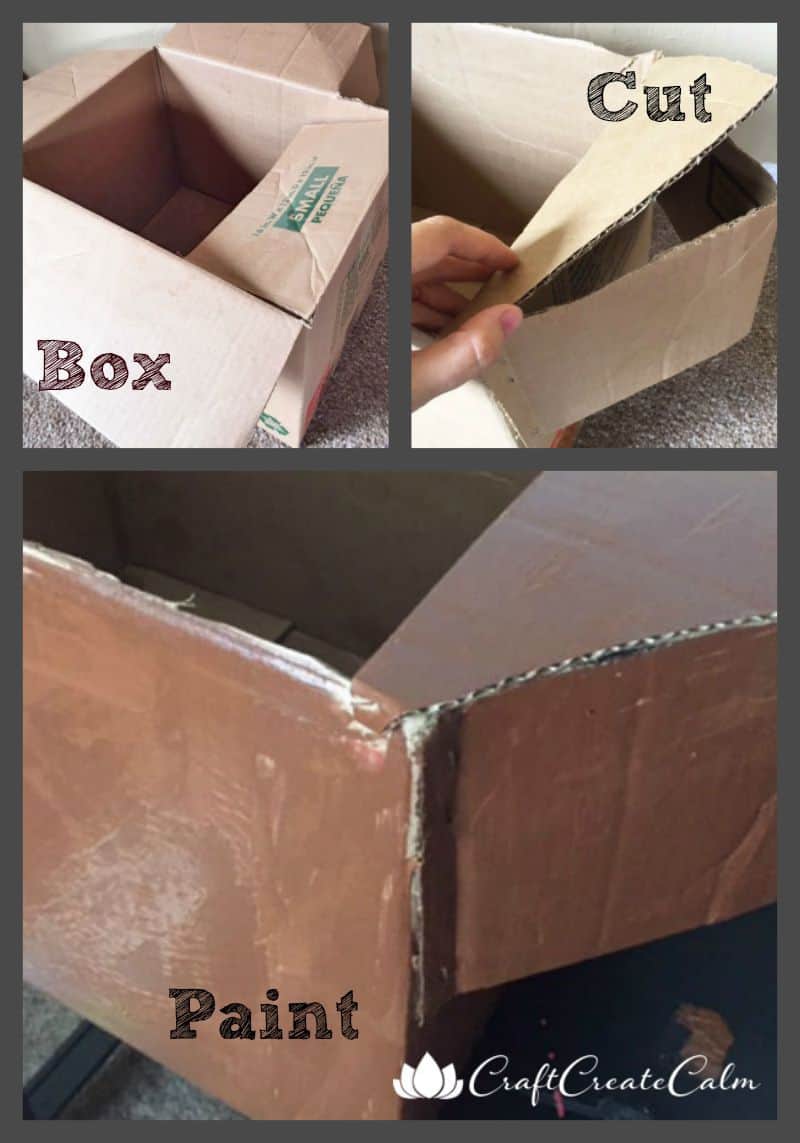 Arrr! Grab yer scissors pirates!
Cut two circles out of the black paper and glue them to the side of the box. Make a hole in the back right corner of the box, and push the stick through until the bottom of the stick is touching the bottom of the box while sitting upright. Drape your fabric scrap on the top of the stick. Secure as needed. Make sure glue and paint are dry before use.

Sail yer ship to the tv for a pirate family movie night!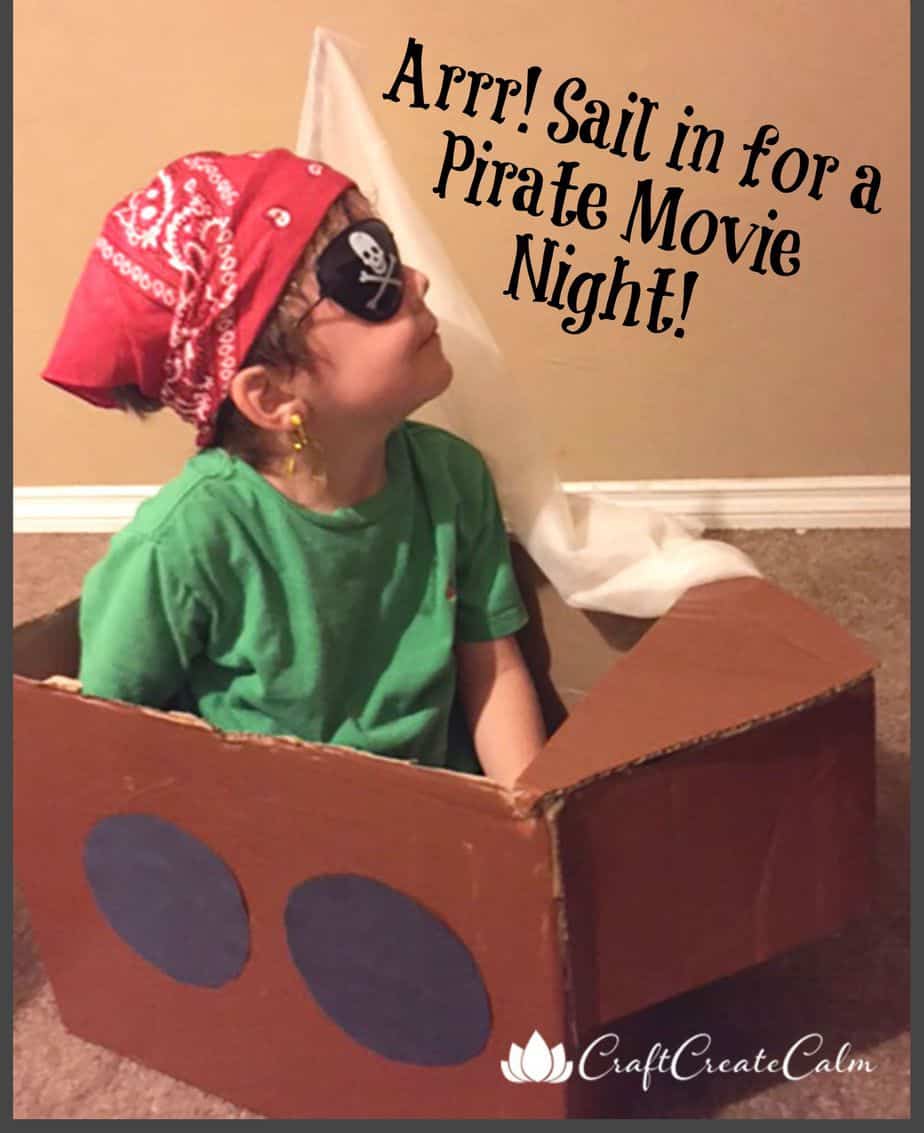 Grab some snacks for the little ones. We ate Pirate Booty Snacks at our sail in movie. My kids had a blast sitting in their ships while watching pirate movies.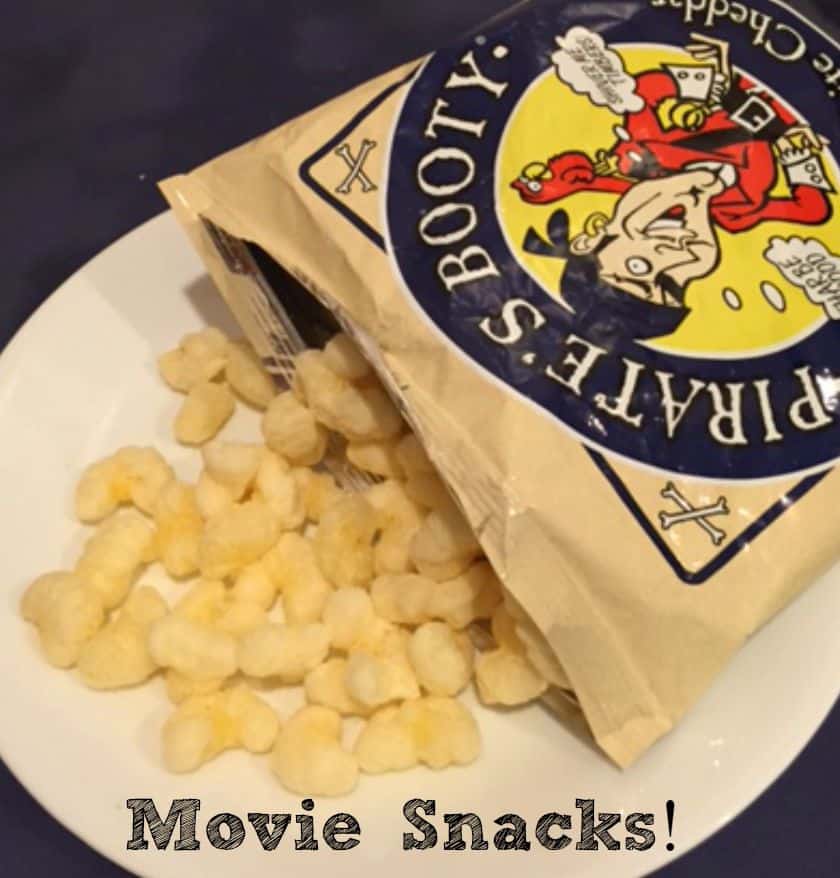 Need inspiration for family friendly pirate movies?
Don't sail away just yet pirates! There's more fun to be had! Check out the links below from some of my blogger friends! They're on a pirate adventure too!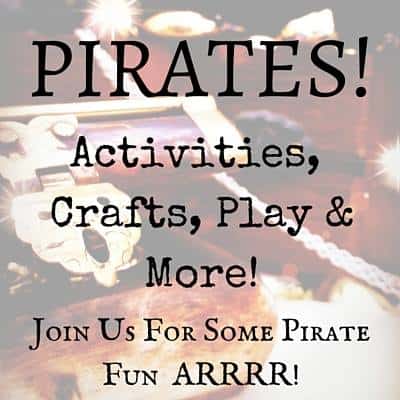 Backyard Pirate Treasure Hunt (Map) – Umbrella Tree Cafe
Make Your Own Pirate Treasure – The Gingerbread House
DIY Pirate Vest & Patch – Play Dough & Popsicles
Toilet paper roll pirates – Just Another Mom
Set Sail with this DIY Pirate Boat – The Resourceful Mama
It's a Pirate's Life for Me – Study at Home Mama
Pirates Love Underpants Sensory Bin – Adventures of Adam
Free Pirate Play Dough Mats Numbers 1-10 – Life Over C's
Pirate Science: Fool's Gold, Parrots and Shipwrecks! – Share it! Science News
Pirate Colouring Pages – In The Playroom
Pirate Books for Kids of All Ages – Superheroes and Teacups
Treasure Chest Craft – Messy Little Monster
How Did Pirates Navigate? How to Read a Map – Schooling a Monkey
Pirate Sensory Bin – Life with Moore Babies
Pirate Preschool Printable – Living Life and Learning
How to Make Some Great Pirate Flags – Witty Hoots
Perfect Parrot Masks for Pirate Day Fun – Peakle Pie
Pirate Perler Bead Patterns – Brain Power Boy
Going on a Pirate Treasure Hunt – Play & Learn Everyday
Pirate Treasure Math Printables – Kidz Activities
Treasure Alphabet Match – The Kindergarten Connection
Make Your Own Pirate Map – My Little Poppies
Treasure Map Grid Activity – My Little Poppies
Make Your Own Map and Treasure Hunt – My Little Poppies
Create a FLOATING Pirate Ship! – Milk and Cuddles
Pirate Puppet Craft -Sugar Aunts
Hidden Treasure Cupcakes – Emmy's Mummy
Non Scary Pirate Books and Movies – Edventures with Kids
Gold Nuggets – Kelly's Classroom
Let the sailing begin!