Pineapple Coleslaw: Simple & Delicious
We may earn money from the products/companies mentioned in this post. As an Amazon Associate I earn from qualifying purchases. For more information, read our Terms & Disclosures.
This pineapple coleslaw recipe is easy to make, healthy, colorful, and the perfect mix of sweet and tangy. It's the perfect refreshing side dish for a summer BBQ, big family meal, or weekday treat. Make this tropical coleslaw with pineapple ahead of time for the best flavors.
Coleslaw is a classic side dish, regularly paired with burgers, BBQ grill menus, potlucks, and family dinners. It's healthy, refreshing, easy to make, and wildly popular.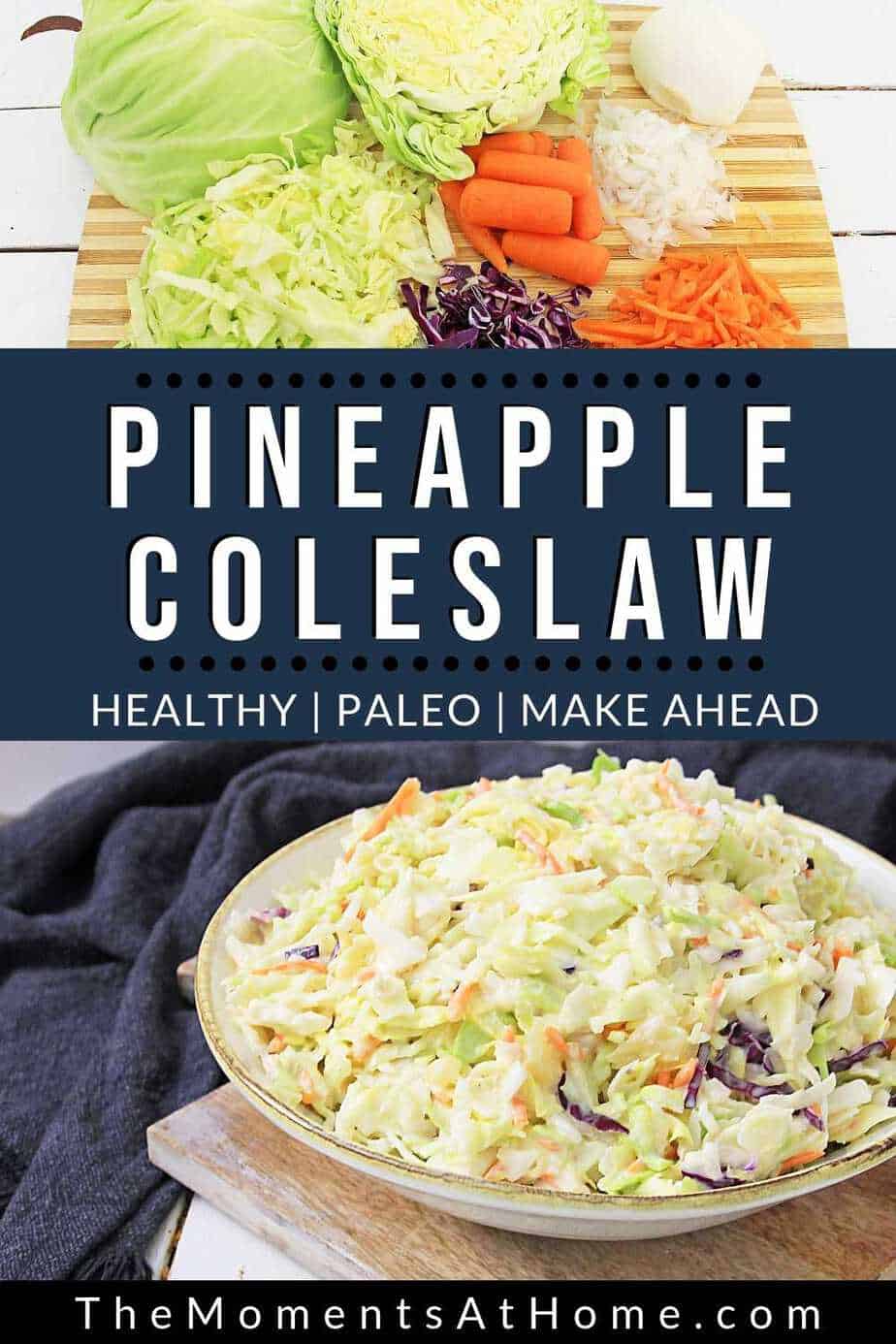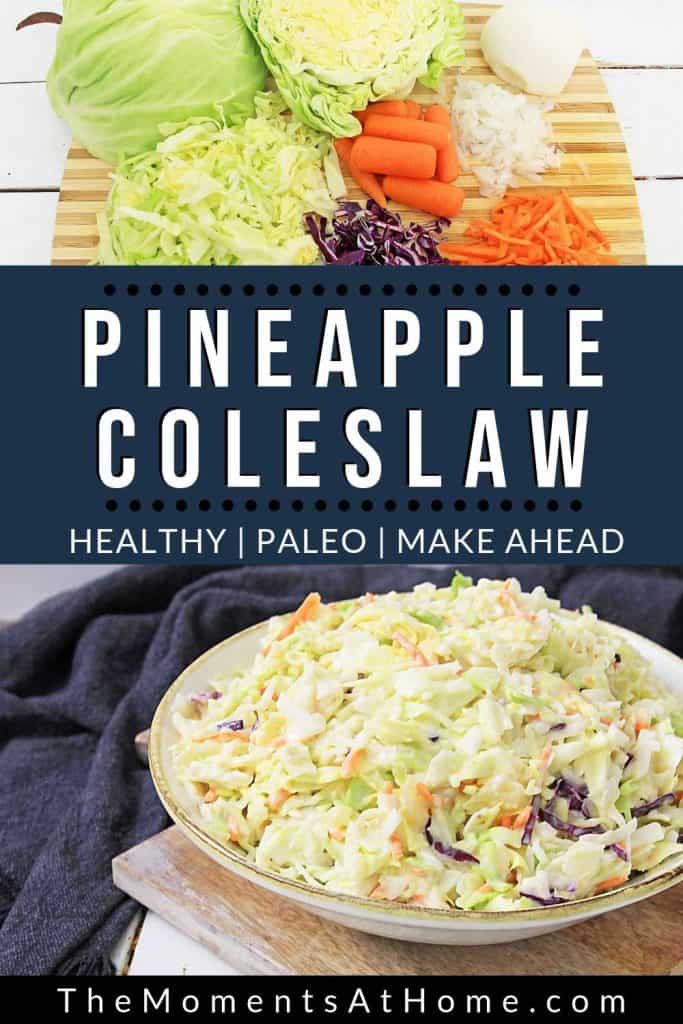 This tangy pineapple version adds a tropical flair that will punch up your traditional favorite and take it to a whole new level!
My kids love it because it's sweet and colorful…and they can help make it. Everyone who gets a bite of this tangy pineapple slaw asks for the recipe because it's such a fun, unique flavor.
Serve it with your favorite burgers (even on your burger bun with some melted jack cheese…mmm), paired with some baked beans and grilled meat, or even kebabs.
Ingredients In This Pineapple Coleslaw Recipe
So what do you need to make pineapple coleslaw?
Cabbage
Red cabbage
Sweet onion (like Vidalia)
Carrots
This recipe used fresh, organic veggies for the best flavor, but you can use whatever you usually buy at the market…or you could just buy a bag of coleslaw mix if you were pressed for time or just want to make it even easier!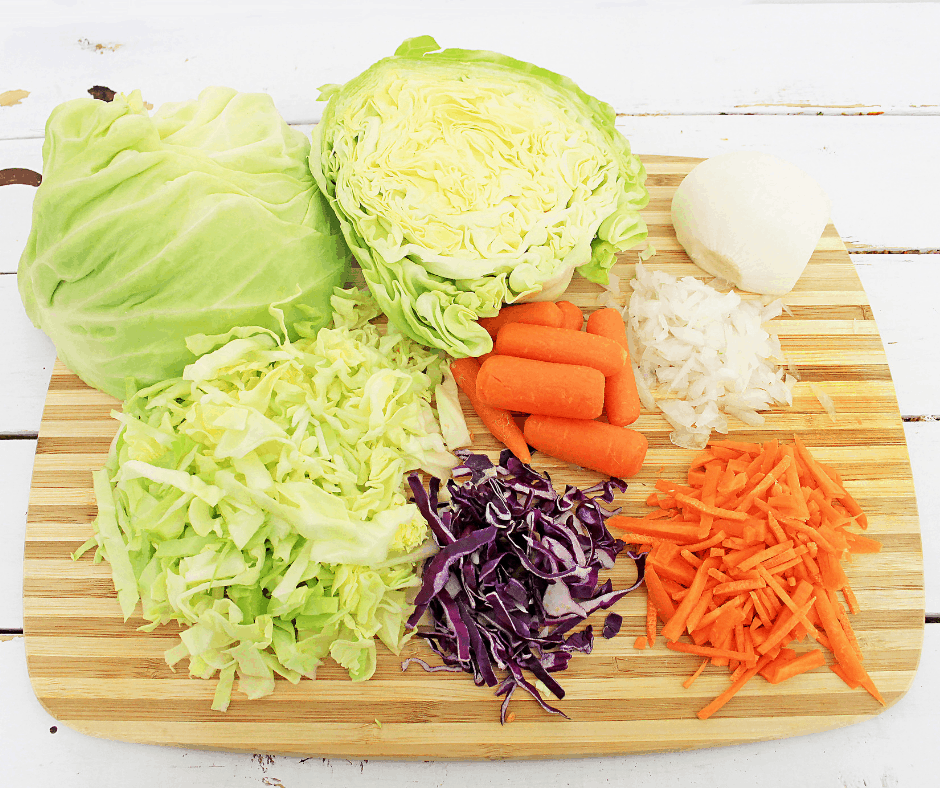 What's In Pineapple Coleslaw Dressing?
The secret here is the sauce! It's not as wet as some coleslaws and the thicker dressing adds a nice layer of texture to this fabulous grill menu side dish.
So what do you need for this sweet yet tangy coleslaw dressing?
Mayonnaise (you can use homemade mayo to keep this Paleo, or even buy some Primal mayo)
Erythritol (optional for added sweetness; optionally you can use honey, sugar, or leave it out altogether)
Salt (I like pink salt the best)
Pepper (fresh cracked pepper adds some great "oomph" to it!)
Crushed pineapple, rinsed off with no syrup (or fresh pineapple diced up into tiny pieces if you have one handy!)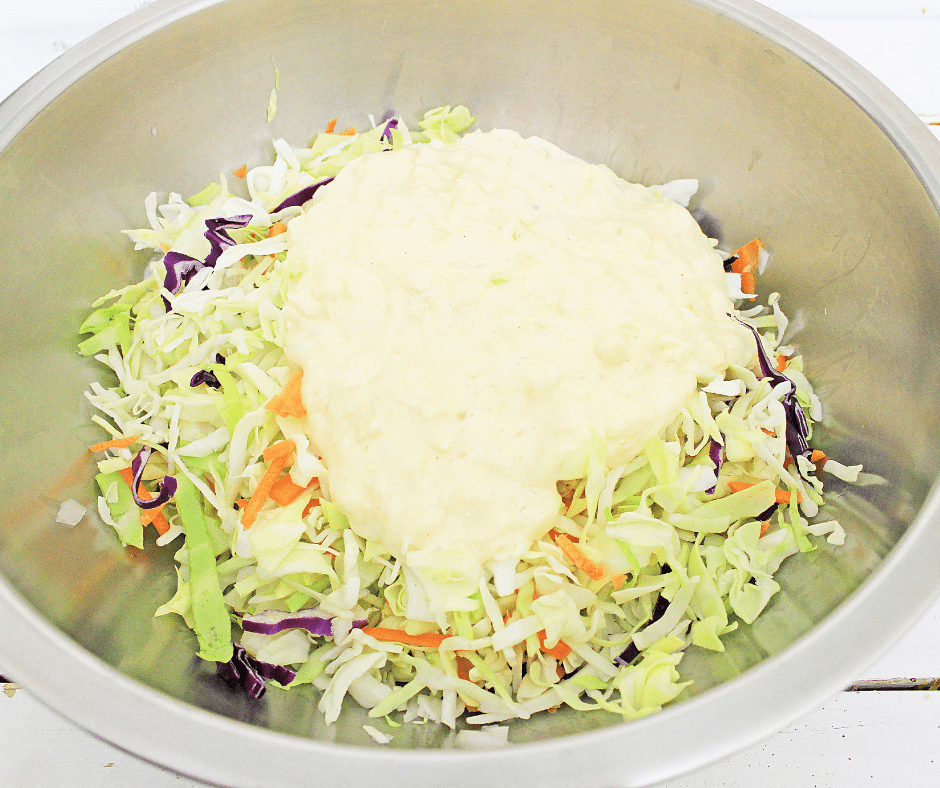 Making Tropical Coleslaw With Pineapple
Next all you do is mix it up in a bowl. You can serve it fresh or you can give it a day or so to marinate and really let the flavors blend together.
The tang of the mayo, the slight bite of the vinegar, and the sweetness of the pineapple come together in a way that will make your taste buds sing!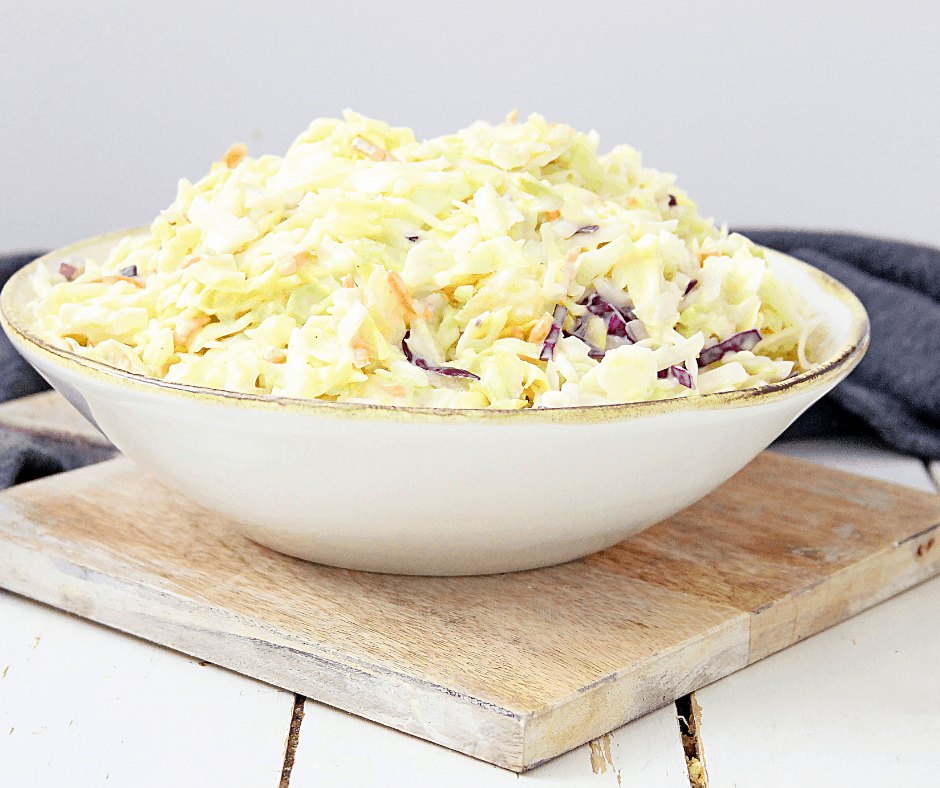 Optional Additions To Your Tropical Coleslaw
A fun way to punch up this tropical pineapple coleslaw is to add some heat to the sweetness.
Consider adding 2 diced jalapeños, a small bunch of freshly chopped cilantro, and the juice of 1/2 of a lime for some south of the border flavor.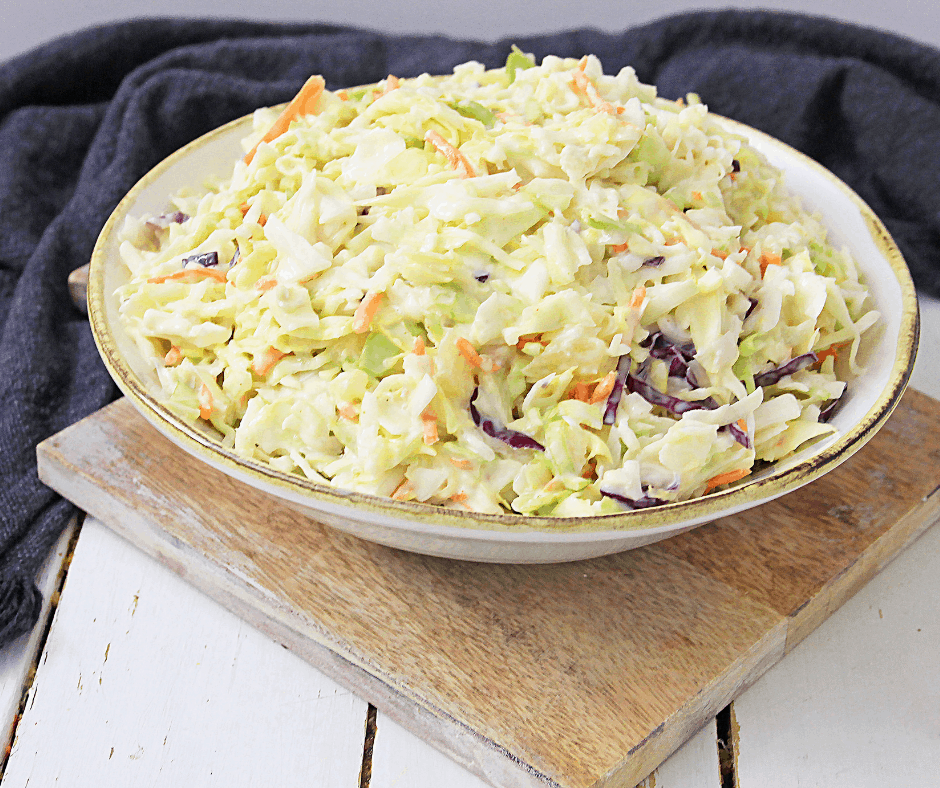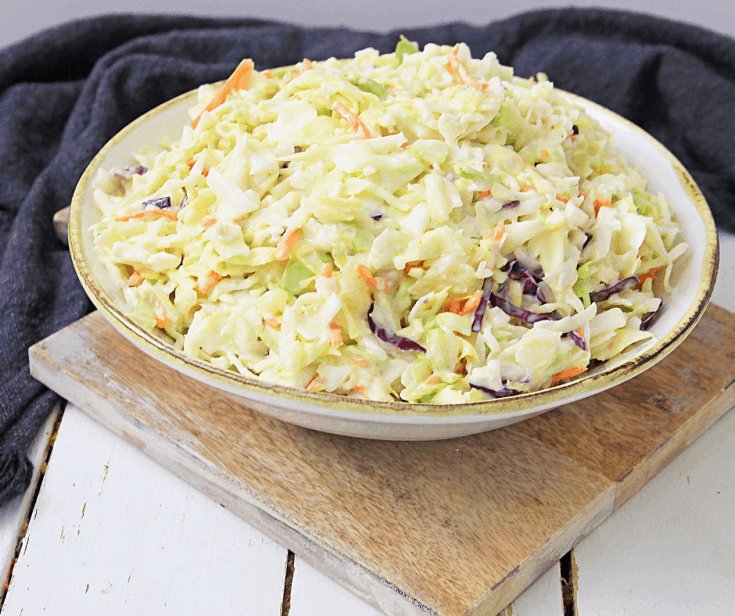 Yield:

12 servings
Pineapple Coleslaw
This easy pineapple coleslaw is perfect for grilling out, potlucks, or to make ahead and enjoy all week long. Sugar free, paleo, whole food goodness with tangy and sweet flavors make this the perfect side dish for just about any meal.
Ingredients
SLAW:
4 cups of organic green cabbage - chopped and washed
2 cups of organic purple cabbage - chopped and washed
1 small sweet onion - sliced thin and chopped
2 cups of grated organic carrots
DRESSING:
1/4 cup mayo
2 tbsp apple cider vinegar
2 tbsp erythritol (or 2 TB honey)
1 tsp celery seed
1 tsp salt
1 tsp pepper
1 15 oz. can of crushed pineapple, rinsed, no syrup (or 1 1/2 cups freshly diced pineapple)
Instructions
FOR THE COLESLAW (if not using a bagged mix):
Finely dice your fresh pineapple or open the crushed pineapple and let it sit in a strainer (over a bowl) to get rid of the extra juice
Chop and then rinse green and purple cabbage. Let dry on a towel or use a salad spinner and then let sit.
While the cabbage is drying, thinly slice onions.
Grate the carrots, and set aside.
Now add all your veggies to a large mixing bowl and toss together.
FOR THE DRESSING:
In a medium bowl place the mayonnaise, erythritol or honey, apple cider vinegar, salt, pepper, drained pineapple.
Stir everything until it's well blended and a smooth pineapple dresser for your coleslaw.
Pour over coleslaw mix, and stir until the coleslaw is uniformly coated in the dressing.
Chill, covered, for at least one hour but up to a few days until ready to serve.
Notes
You could also add some diced jalapeños, a splash of lime, and some fresh cilantro to kick up the heat and add some south of the border flair to this tropical side dish.
Nutrition Information:
Yield:
6
Serving Size:
1
Amount Per Serving:
Calories:

199
Total Fat:

7g
Saturated Fat:

1g
Trans Fat:

0g
Unsaturated Fat:

6g
Cholesterol:

4mg
Sodium:

505mg
Carbohydrates:

34g
Fiber:

5g
Sugar:

21g
Protein:

3g