We may earn money from the products/companies mentioned in this post. As an Amazon Associate I earn from qualifying purchases. For more information, read our Terms & Disclosures.
Looking for a fun & delicious breakfast the kids will be excited to eat? Here you go!
Rainbow pancakes are all about fun! There is no doubt that the kids will have a blast creating, eating, and coming back for more! These pancakes are perfect for talking about the colors of the rainbow and filling bellies full of yummy food.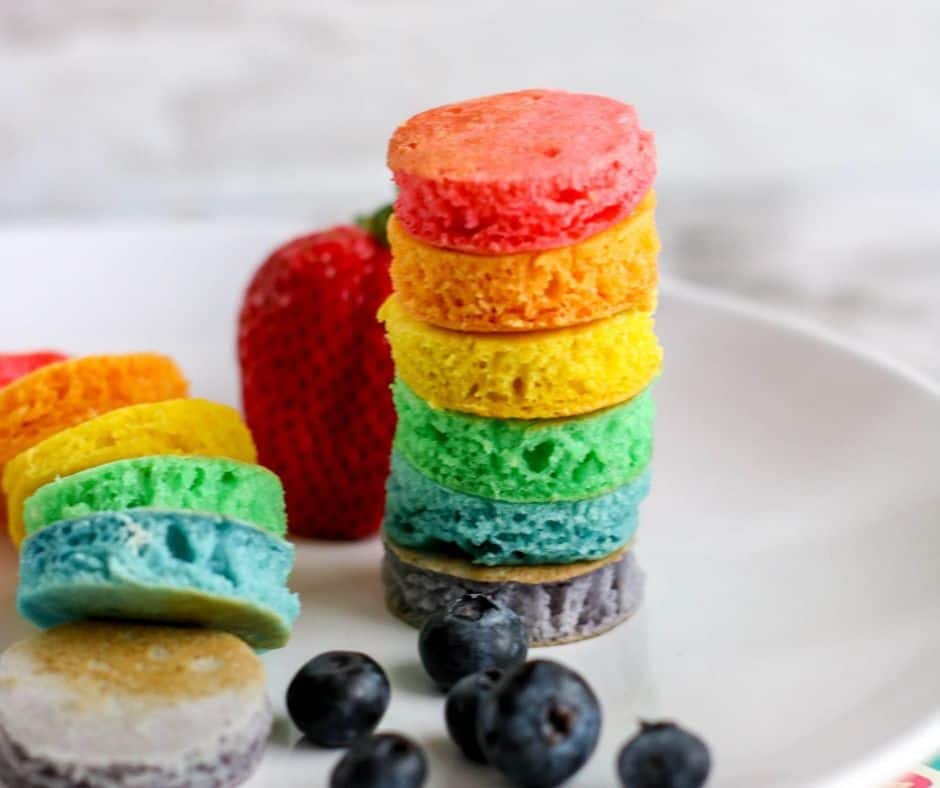 Can we all just agree that these rainbow pancakes are adorable? They're bite-sized perfection and so cute! (but don't worry, if you want to make them bigger in size, you can totally do that as well)
The kids love when we make the little circles, so I try my best to do that whenever I can. It's all about balance when it comes to cooking in the kitchen.
What we love about this homemade pancake recipe is that they're so light and fluffy. I swear, half the time, the kids don't even add syrup!
Speaking of delicious breakfast and snack ideas, check out these healthy, quick Oatmeal Banana Pancakes as well. This is another super yummy recipe that everyone will enjoy.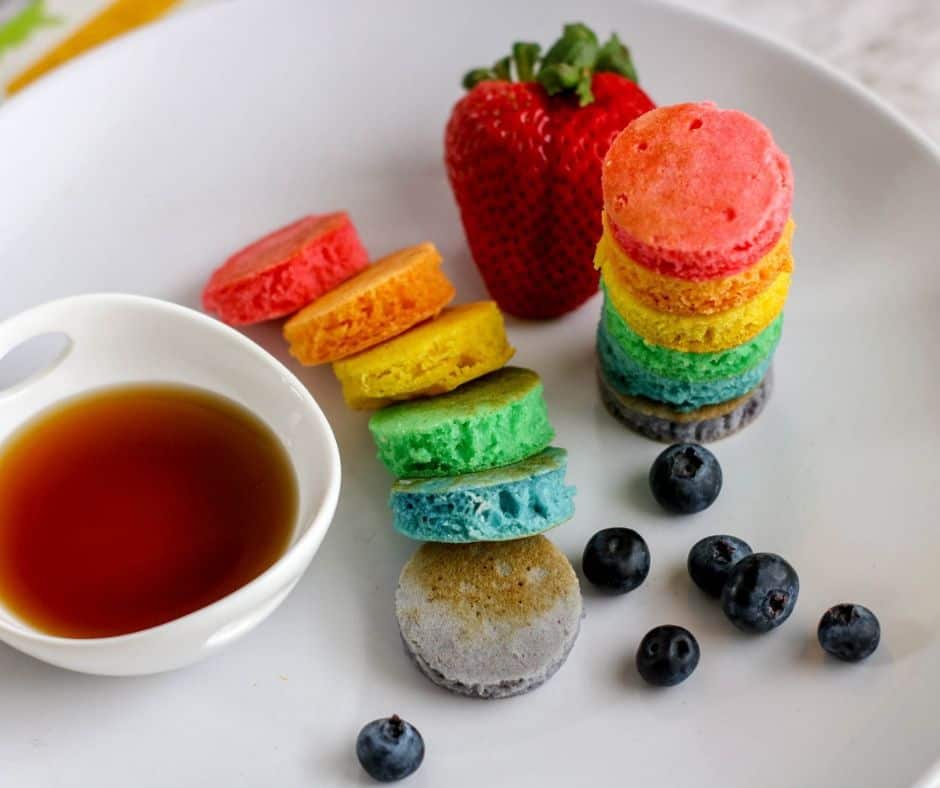 Ingredients Needed For Rainbow Pancakes
Making tiny pancakes that are rainbow-colored isn't hard at all. Just be sure that you gather up all the needed ingredients to get started so you have everything that you need to whip them up without issues!
flour

sugar
salt
baking powder
eggs
vanilla extract
milk
butter
Food coloring: blue, yellow, red, green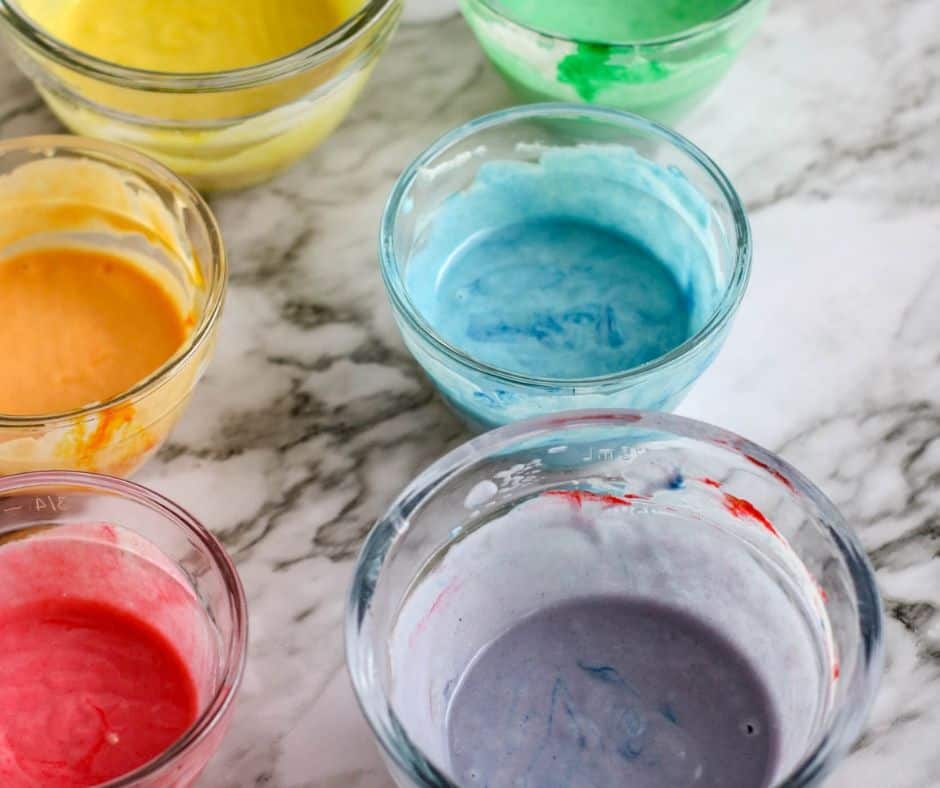 How to make Rainbow Pancakes
You're going to love the ease of these mini pancakes! Make them small or make them big – but just make them!
Whisk together the dry ingredients in a bowl.
Use a different bowl and add the milk, vanilla, and eggs. Slowly add the butter.
Make a well in the middle of the dry mixture and pour the wet ingredients into it. Stir until a batter is formed. Let the mixed batter rest for 5 minutes.
Divide the batter into 6 portions. Add 3 drops of the food coloring to each bowl to make the different colors of the rainbow.
Heat the griddle to 300 degrees. Spray with nonstick spray.
Pour 1/4 cup of the batter onto the griddle. Flip the pancake once you see bubbles on the surface. Cook each side for 2-3 minutes.
Use a small cookie cutter to make mini pancakes.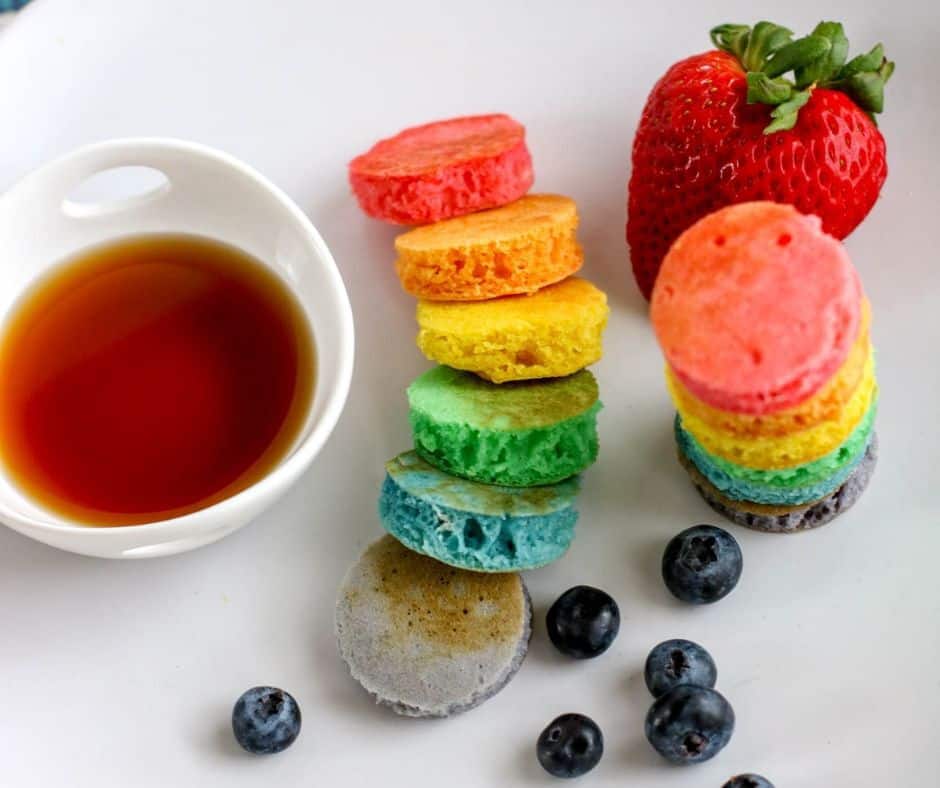 Tips For Making Mini Pancakes
When making the batter, you may notice that there are some lumps in it. That's fine – you don't need to overmix. The lumps will dissipate when you're cooking them.
If you don't have a cookie cutter to make a small circle, just freehand it and do your best! Don't forget to save the scraps and eat them, too!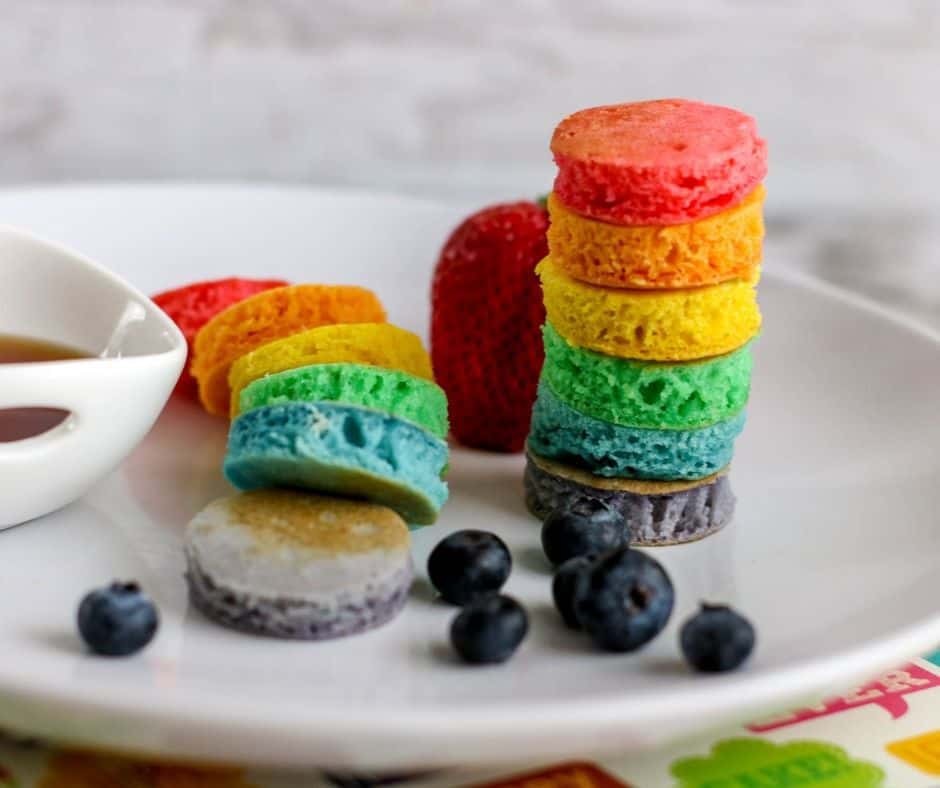 How do I store leftover pancakes?
If you have leftover pancakes, you're so lucky! That just means that you'll get to enjoy this taste and flavor again!
All you need to do is put them in an airtight container and keep them in the fridge.
What are the best toppings for pancakes?
This is where everyone can change up the flavor of their pancakes! Some popular pancake toppings include:
pancake syrup
powdered sugar
chocolate chips
whipped cream
maple syrup
honey
Or anything else that you want to add! Some people even put peanut butter on their pancakes and enjoy it.
Use these pancakes as a fun way to show the kids that food can be creative and delicious! This will help them learn about the colors of the rainbow, and they can even use this as a reason to play with their food, too!
Picking up the tiny pancakes and creating their own food rainbow is the best! Add some fresh strawberries and blueberries as well!
Ingredients
2 cups flour
3 tablespoons sugar
½ teaspoon salt
1 tablespoon baking powder
2 eggs, beaten
1 teaspoon vanilla extract
1 ¾ cups milk
¼ cup (½ stick) butter, melted but cooled slightly
Food coloring: blue, yellow, red, green
Instructions
Whisk together the dry ingredients in a bowl.
Use a different bowl and add the milk, vanilla, and eggs. Slowly add the butter.
Make a well in the middle of the dry mixture and pour the wet ingredients into it. Stir until a batter is formed. Let the mixed batter rest for 5 minutes.
Divide the batter into 6 portions. Add 3 drops of the food coloring to each bowl to make the different colors of the rainbow.
Heat the griddle to 300 degrees. Spray with nonstick spray.
Pour 1/4 cup of the batter onto the griddle. Flip the pancake once you see bubbles on the surface. Cook each side for 2-3 minutes.
Use a small cookie cutter to make mini pancakes