A Better Naptime for Pets while Traveling
We may earn money from the products/companies mentioned in this post. As an Amazon Associate I earn from qualifying purchases. For more information, read our Terms & Disclosures.

A Better Naptime for Pets with Squishy Mats
I recently received a 3×3 dog bed from Squishy Mats to let my dachshund and vizsla try out for naptime. They were pretty excited about it when I opened the package like dogs are when they get something new. Or when any kind of packing material is around for them to chew up. I received the product in exchange for my honest opinion in this review.
What is a Squishy Mat Pet Bed?
Squishy Mats contain almost one inch of Memory Foam – also known as the low resistance polyurethane foam developed by NASA in the 1960s. The surface of each mat is covered by a super soft, micro-flannel fabric and is backed with a nonslip rubber grid. Each mat is durable, sturdy and designed for life on the move.
Squishy mats come in three sizes:
16×32″ The Skinny Mini – perfect for little dogs with big personalities and a nice way to protect "their" spot on the couch from hair – folds and fastens with a carrying handle.
3×3′ Little Squishy – The Little Squishy fits perfectly in the back of most vehicles, keeping your automobile clean and your fur babies comfortable – folds and fastens with a carrying handle.
4×4′ Big Squishy – Let's face the dog is just gonna steal the Squishy Mat from you and your little one. The Big Squishy is truly made with everyone in mind, but buy Scooby Too his own mat and be sure to pick one up for yourself – folds and fastens with a carrying handle.
Durability and Convenience
My dogs spent their first few minutes on the Squishy Mat digging the fabric with their claws and moving it around the room. It's lightweight and our puppy thought it made a fun toy to drag from spot to spot. Our older dog settled down on the mat stopping the puppy's attempt to move it again. Both dogs sleep at the foot of our bed so they use the Squishy Mat during the day for naps. The memory foam is soft and the fabric is cozy. I washed the mat a couple times and it held up really well. One more nice feature is that the Squishy Mat folds up for convenient travel. This would be great to bring on a camping trip, long car-ride, or hotel stay.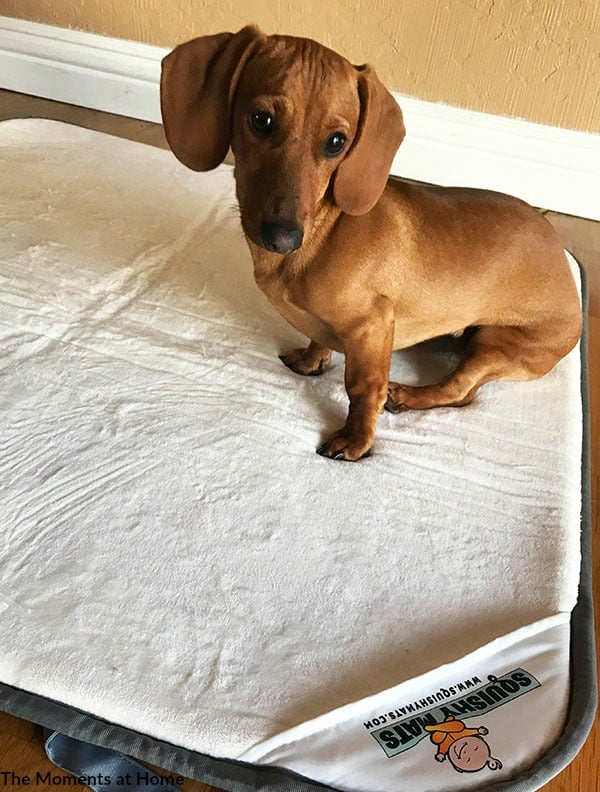 Save 20% on a Squishy Mat Today!
My Readers Save 20% Off with code "SQUISHYPETS" on all sized Squishy Mats – Because Squishy Mats are for EVERYONE!
https://www.squishymats.com