Thanksgiving Traditions & Activities For Families
We may earn money from the products/companies mentioned in this post. As an Amazon Associate I earn from qualifying purchases. For more information, read our Terms & Disclosures.
Here are some simple, fun, and memorable Thanksgiving ideas you can try this year with your family if you'd like. They're super easy and bound to create many memories.
The spicy scent of gingerbread fresh out of the oven, festive leaves adorned with sentimental words, and crunchy fall leaves…It's so much fun to find new Thanksgiving activities and traditions to enjoy with your family.
As each year passes and the kids get older, you may wonder what type of Thanksgiving activities you can add to your holiday season to cherish the old and spice things up with new fun.
While having old Thanksgiving traditions that have been passed down from generation to generation can be quite thrilling, creating your own unique seasonal rituals can be quite meaningful (and a whole lot of fun!). Traditions twine together nostalgia, joy, and anticipation while making memories out of regular moments.
Why Are Thanksgiving Traditions Important?
Traditions are comforting, stabilizing, and generate a lot of excited anticipation.
Growing up looking forward to decorating gingerbread cookies, stuffing the turkey with my uncle, watching the Macy's parade with my aunt, and listening to the first Christmas album of the holiday season brought me so much joy.
Now that I'm a mom, I've enjoyed watching that same anticipation start building in our children.
The scents of Pumpkin spice coffee, the brilliant colors of the leaves turning on the trees, and the brisk weather that makes us pull on fuzzy sweaters are all stepping stones down the path to our favorite family day of the year!
Our take comfort that no matter where we are, there are some things we're going to do no matter what. Those traditions have given them stability and peace in tumultuous seasons, delight and excitement in happier ones.
Traditions Strengthen Family Ties
Decorating gingerbread boys is hands down my most precious childhood Thanksgiving memory. I have photos from year after year of doing so, and one of them is even framed and displayed proudly in our home.
I've carried that tradition forward with our family, but we've also created a few of our own to fit our own lives. These traditions have knit us all closer together.
Traditions do that, you know? Shared experiences, year after year, knit your hearts together. I love doing that for my kids!
Their favorite tradition is our huge family brunch. Since my husband works on the holidays most of the time, we have to get creative. Instead of a huge dinner like most families have, we've adapted to a big brunch and have our turkey dinner another day.
Every year we scour recipe books and Pinterest to try one or two new dishes as well bringing back tried and true favorites. We use our favorite plates, make party punch and cappuccinos, and invite friends to join us.
And after? We watch a movie, decorate cookies, and start our Advent traditions.
Thanksgiving Ideas You Can Try This Year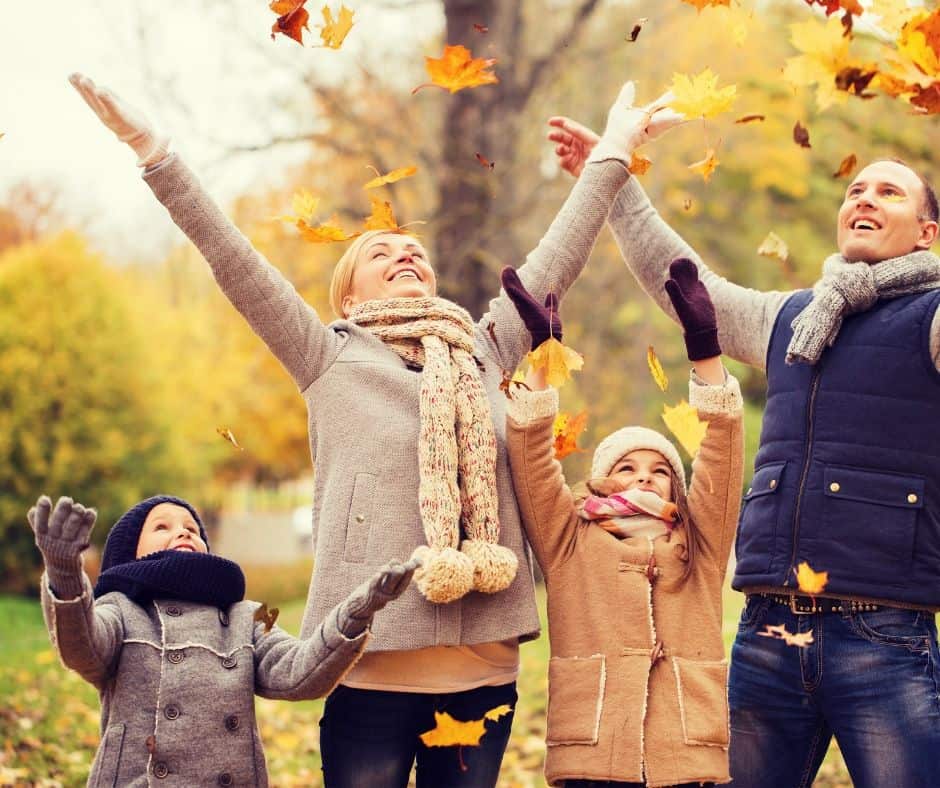 Collecting & Playing In Leaves
After Thanksgiving dinner head outdoors with your family and rake those leaves up.
Start rolling around and jumping in the leaves after you collect them into a pile. You could even collect leaves to make it into a "maze" that each family member must crawl through to reach the end.
Plan Thanksgiving Vacation
Thanksgiving is a great time to plan a family vacation because costs are lower during this off-season time of the year.
You could start a new Thanksgiving tradition where your family plans a destination vacation during Thanksgiving break every year.
Make a Thankful Tree
Make a thankful tree with your family every year to give thanks for all that you have in your life.
This tree can be made from construction paper or you can purchase a "fake tree" in the craft section of a craft supply store and make pretend leaves where each member writes something they're thankful on the leaf and attach it to the fake craft tree for display during the holiday season.
Personally, I love the look of rustic wooden rounds hung on a twine on the wall for a twist on this. It looks great in the dining room…and then you can turn around and hang Christmas cards from it next month!
Read Thanksgiving Books
One of the best Thanksgiving activities you can do with your younger children is to work some educational family traditions into your rituals.
Starting November 1st of each year, have a selection of Thanksgiving books that you borrowed from the library or purchased that you'll read at a pace of one per day together leading up to Thanksgiving day.
Some of our favorites are:
Attend A Harvest Celebration
Thanksgiving is a time where some places host harvest celebration and so why not make this a new Thanksgiving tradition for your family?!
Look up a harvest celebration that happens annually in your local area and make plans to add this to your newly created Thanksgiving traditions list.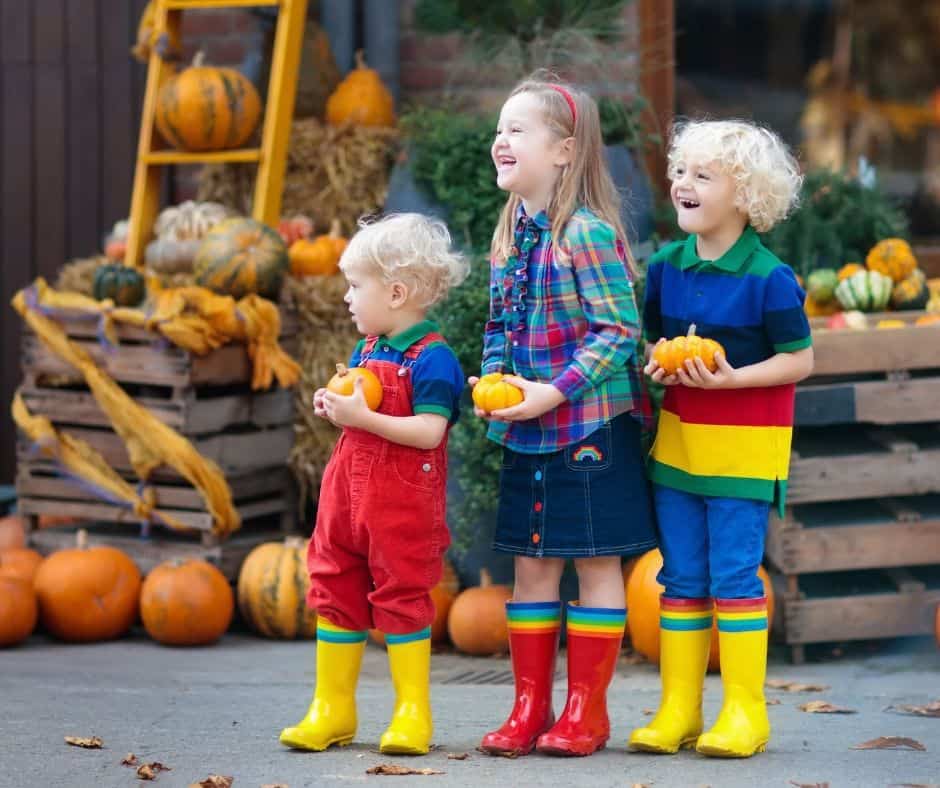 Go To A Pumpkin Patch & Then Decorate Your Home
It's so much fun to go and get pumpkins, gourds, hay stacks, autumn leaves, pinecones, twigs and berries…really anything that catches your fancy.
The going and getting is an adventure, but so is the coming home and decorating.
Maybe make little centerpieces for gifts to show grandparents, neighbors, friends, or random strangers some kindness at the start of a busy holiday season.
Do Thanksgiving Crafts & Activities
Plan to make one craft each day in November with your kids as a means to start a new Thanksgiving tradition using the Thanksgiving activities you find online for Thanksgiving craft ideas.
Each craft can be something to do with thankfulness, gratitude, or anything that has to do with the Thanksgiving season.
Some fun ideas are:
Volunteer As A Family
Make it a point to start a family tradition to volunteer together at a local food pantry or other location in your area.
There are so many people who go without food and family during the Thanksgiving holiday season so it's nice to start this Thanksgiving tradition to give back to those who are less fortunate.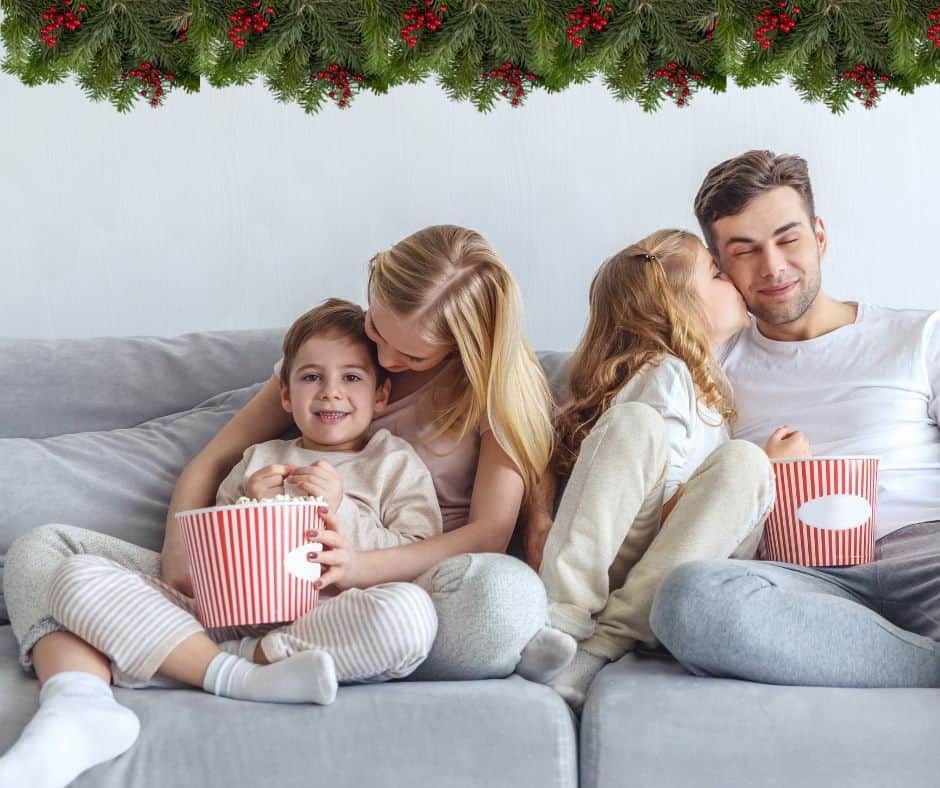 Watch Holiday Movies
I know, I know, TV isn't exactly of family bonding dreams, but we've found that anticipating and enjoying holiday movies together is wholly different than just vegging in front of the boob tube.
There really is something special about coming together and enjoying the same thing.
We like to make it super special around the holidays with fun flavors of hot cocoa, our popcorn tub set, and popcorn flavors so everyone can jazz up their own tub.
Some ways you might do this: watch a movie on Thanksgiving evening with your favorite holiday pie, have a PJ party and marathon watch a holiday series, have friends over for a popcorn bar and watch a movie you can sing along to.
Here are some of the movies we fit in every year between Thanksgiving and New Years:
Start Your Own Thanksgiving Traditions This Year
So how do you pick one (or more) of these and start making it your own?
Easy peasy…you just do it! Gather the family, maybe some friends, and have a fun day or evening together. It's that simple.
Traditions don't need to be complicated; what matters is the people you love and the fun you share.
And then next year? Do it again. And boom, a tradition has been born!